Foxcroft and Ginger – Whitechapel Review
Stepping out of Whitechapel Station I feel a wave of nostalgia coming back to East London a.k.a 'my ends'. Away from the hipster saturated Shoreditch, Whitechapel and Stepney Green have never really
transformed with the same trendy fashion as its East End cousins. The Mile End Road which runs through the two stations has long been predominantly overtaken by greasy, substandard chicken shops serving fried grey chicken stuff. Growing up on this road I have always despaired at the underwhelming food establishments and lack of choices for anything gastronomic. However the face of Mile End Road is changing as the war against bad food and awful chicken shops has well and truly begun.
Foxcroft and Ginger is the love child (as well as their other actual child) of Quinten (Foxcroft) and Georgina (a redhead) who met whilst working in a café in Clapham. With Quinten's extensive experience in the restaurant business and Georgina's multi-tasked magic in making numbers add up, doing HR and running back of house, the couple have created a relaxed and stylish establishment adorned with industrial chic pieces with reclaimed wood, galvanised steel and my personal favourite – squirrel cage Edison light bulbs.
The first branch of this café-restaurant opened its doors in Soho, right slap bang in the middle of the recession. It's resilience to economic factors which has felled fellow foodie establishments is a testimony to the quality of their food which I can vouch for. Their array of bread, cakes and pastries are baked on site; even their sausages are their own creation. What I like is that alongside staple dishes of eggs benedict, french toast and sourdough pizzas, the menu changes throughout the year to reflect seasonal produce and local availability. The whole menu is refreshing and I am delighted to see that this wasn't serving an American themed menu of gourmet burgers, hotdogs and slow cooked pulled pork/brisket which seems to be a common theme at the moment.
For ridiculously (and I mean RIDICULOUS) good value for money you can gobble generous sized dishes such as braised beef cheeks with fragrant couscous and carrot jam; and slow braised lamb with glazed mushrooms and pearl barley risotto. The average cost of a well portioned dish here is about £7.50, cheaper than a meal at Nando's (once you've included sides) which is just down the road. After much umming and ahhing I opted for a dish of slow cooked beef short rib with sweet potato purée, confit shallots and a gravy jug. Feeling particularly greedy and curious I ordered a recommended side of golden fried polenta chips with aubergine kasundi (relish/chutney) and sour cream.
Put simply, the food is fantastic. There is a certain rusticness to the food that makes it hearty, honest and comforting. My beef was falling effortlessly off the bone and sat in a puddle of its stewing liquor which was quickly enriched with slightly sweet gravy and smoothed sweet potato. The polenta chips were a revelation; large bricks of soft polenta coated with a perfectly crunchy golden coat; its accompaniment of an intensely rich and spicy aubergine relish with a sour cream to counteract the spice was my favourite element of the lunch. At a cost of just £7.50 for the beef and only £3.95 for the polenta chips I am still in awe at the value for money. If there was any disappointment it was that I hadn't left room to have any of the cakes on display. Massive sad face.
I have no doubt that Foxcroft and Ginger will flourish in Whitechapel and probably anywhere else for that matter. Building on their success, Quinten and Georgina plan to continue growing and evolving Foxcroft and Ginger. They have their sights set on a new and exciting location and plan to incorporate an open plan kitchen for a full on display of gastronomic action. They also plan to use their new site as a factory hub for all their baking which will supply their Whitechapel and Soho sites and their pop up sites, one of which will soon be gracing Old Street station for three months starting in April.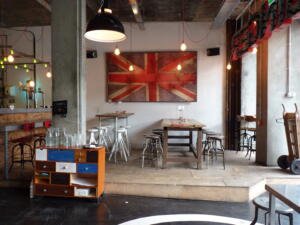 So while I wait with great hope that a South West branch may open (pleeeease!)I shall be journeying to Whitechapel and Soho. Foxcroft and Ginger is definitely one not to miss if you want quality food and something a little different. If you're on a budget and a little bit strapped for cash this makes it all the more perfect.
Foxcroft and Ginger - Whitechapel
Food

Value

Decor

Location
Summary
Foxcroft and Ginger in Whitechapel is definitely one not to miss if you want quality food and something a little different. If you're on a budget and a little bit strapped for cash this makes it all the more perfect.