Zoe's Ghana Kitchen comes to Clapham Common at The King & Co
Popular pop-up chef Zoe Adjonyoh is bringing her exciting contemporary twist on traditional Ghanaian flavours to South London with a two month Ghana Kitchen residency at The King & Co pub in Clapham. Something we tried with mixed reviews a few weeks back, but Zoe has made quite a name for herself over the past few years and have amazed us before, so I'd actually take our most recent review with a pinch of salt.
Open every day throughout April and May, visitors can expect to enjoy a specially created new menu of Ghanaian small plates, including jollof chicken skewers, griddled mackerel fillets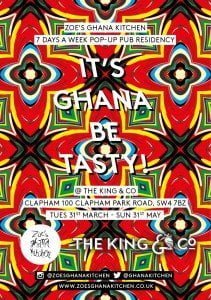 in chilli lemon and garlic, and okra tempura with homemade shito sauce.
At weekends however Zoe is also offering a range of hearty brunch dishes like spiced black eyed beans with fried eggs, sweet plantain pancakes, and her signature ZGK breakfast burrito; alongside a lunch "Chop" bar menu that gives you opportunity to sample a selection of Ghanaian classics in a single platter.
It gets better still as Zoe's Sunday roasts are also on the menu with tender Lamb Palaver, a five hour slow cooked hoggat shoulder with baby spinach and ground melon seed stew. We tried the hoggat shoulder and it was probably our favourite dish.
It would also seem that Zoe is trying to get away from the idea that it is just 'pop-up' restaurant, by labeling it as a food event in its own right: creating a look and feel from its Ghanaian roots that tries to merge with a more contemporary dining experience.
For those of you who still might need some convincing, Zoe's started in the Hackney supper club scene before taking her twist on classic Ghanaian flavours to pop-ups across London, Berlin and even Russia. Zoe has also taken her street food to festivals including The Feast Collective at Camp Bestival.
As for The King & Co, this is a pub I have frequented from time to time since I moved to London and I have seen it change it's name a few times too. It maybe relatively small, but this isn't their first residency so hopefully this formula of bringing in guest chefs will give this place some stability and add variety to the area.  Other kitchen takeovers have included Donostia Social Club and Miss P's Barbecue and pop-up chefs Wild Serai and Bah Bah Persian Kitchen.
So if you're around over the bank holiday weekend, this might be well worth a visit. For more info visit ZGK or King & Co website