Trgyve Wakenshaw, The Misfit Analysis and Clout Theatre are amongst the many performers, shows and attractions heading to South London's VAULT Festival from 27th January until 6thMarch for VAULT Festival 2016. Eight subterranean spaces within one venue, three bars and a pop-up restaurant fill the labyrinthine vaults beneath Waterloo Station.
New for 2016 will be the first VAULT Film Festival taking place each Sunday in February. Whilst theatre buffs can watch SQUIDBOY, starring award-winning physical theatre performer Trygve Wakenshaw, in which an imaginary friend creates their own imaginary friends. (OKAY)
Even more left field is the The Misfit Analysis, where audiences will be taken
through a world of wheelchairs and blow up dolls in a captivating exploration of an autistic mind, dubbed This performance is written and lead by Cian Binchy who also acts as consultant for the West End's 'Curious Incident of the Dag in the Night-Time'.
In a VAULT Festival debut, the award-winning company, Clout Theatre present 'The Various Lives of Infinite Nullity'; a dark and intriguing piece of absurdism centered around a post-suicide support group held in the afterlife.
Commedy lovers may want to sample Lucie Pohl, as she offers up a host of NYC-inspired character comedy in 'Cry Me A Liver'.
If your looking for more of a party, you can join their 'La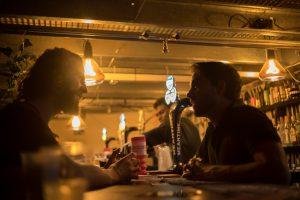 tes', happening on every night of the festival, with parties until the early hours. The Ceilidh Liberation Front, Artful Badger's Valentine's Ball, Fat Tuesday Mardi Gras and FILTHy Silent Disco hosted by TimeOut will be tearing on the VAULT dancefloor.
But it's not all parties and raves, families are catered for in their action packed Mini VAULT programme. A magic day out is promised via Pirates of the Carabina, poet Roger McGough and a show from Lithuanian dance company Puzzle, devised for under 3s using the latest in young-years education teachings. Oh and there is a rave for kids too with the Big Fish Little Fish family rave and an 'Under The Sea' party courtesy of Mini Rumpus.
All in all this looks like a something for everyone one festival that you really need to get to. You can see the Full programme of events here
Tickets for theatre performances, comedy, club nights, workshops, family entertainment and a host of other stuff can be bought via vaultfestival.com from as little as £5.