The Silly Old Bear Afternoon Tea @ The Pelham Review
Afternoon Tea

The Pelham Hotel

For small kids

For big kids

V&A exhibition
Summary
If you want a magical family day out with kids that are 2 or a 102, then this should be high on your list. The well thought out afternoon tea and Winne the Pooh exhibition gives you a taste of the high life for a pretty reasonable price considering what you get for your money. 2 years old is perhaps a bit too young, but they'll likely still love it.
LDN Life was invited ago to sample The Silly Old Bear Afternoon Tea and visit the Winne the Pooh V&A exhibition. So I did what any dad would do and took my 2 and a half-year-old son along, as when it comes to swanky hotels and Winne the Pooh, it's best IMHO to view it from the eyes of a child. Plus he's a big Winne the Pooh fan and may 'never' forgive me, in years to come if he found out I went without him.
The only problem, of course, afternoon tea is a pretty civilised affair and toddlers aren't well renowned for being civilised, thankfully there's colouring stuff provided to keep the kids occupied. The Pelham is also pretty swanky and it should be with The Oh Bear! Package starting at £375 per room per night, including breakfast and it's just a stone's throw from the V&A and all the delights Kensington has to offer. Don't worry if you can't afford that, as their afternoon tea and exhibition offer is much easier to swallow.
As you would expect, this is a fun and playful afternoon tea that features treats inspired by our favourite foodie bear.  Including very yummy Hunny Pops (Honey parfait, white chocolate and caramel glace lollipops), 'I wish I had seconds' Eeyore's sweet treat (Chocolate mousse, crumble and fresh orange compote) and very nice but my least favourite Tiggeron (Passion fruit striped macaron). Winne's cupcake (Lemon cupcake with Vanilla topping) and the super playful Buzzing Bites (meringue and marzipan bee) 
Plus old staples of crust-free sandwiches that my son loved, perfectly made scones and clotted cream, jam and lemon curd. Plus Tattinger Champagne and of course tea.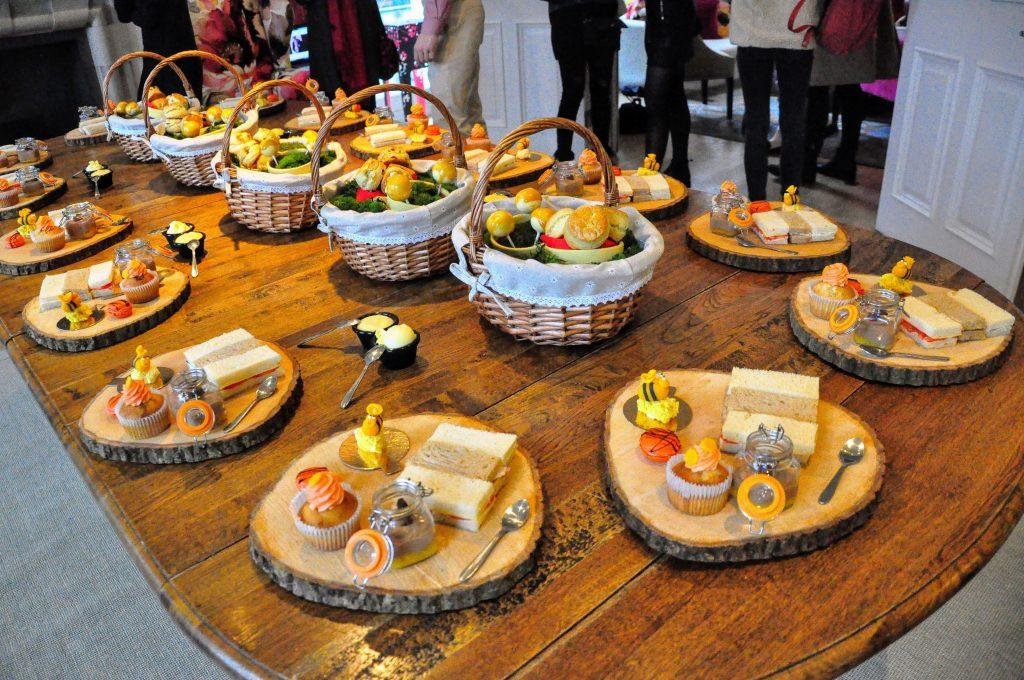 In fact, my son loved everything apart from the cucumber sandwich, and even then he ate the bread. He even made it more his own by bringing along his own props for the event. So I can say with confidence that Winne the Pooh (still in his Christmas outfit) and Eeyore has a magical time and our fellow blogger guests heaped praise on their experience, too. 
After one of the best afternoon tea's I've had, we headed to The Winnie The Pooh – Exploring a Classic Exhibition at The V&A to work off all that sweet treats. The weather was bad, but because the hotel was so close to the V&A it didn't really matter. 
The V&A say that that the exhibition is for people ages 2 to 102, but whilst it is magical and I learned a lot that I never knew, a lot of it was over my sons head, but you could tell he was having a great time in a magical world.
This family experience is sold at £43 per person including tickets to The Winnie The Pooh – Exploring a Classic Exhibition at The V&A and is available until 8 April 2018, which is nothing short of a bargain, especially considering that the exhibition was and will likely continue to be sold out, especially at the weekends.
What would be nice too see is a slightly cheaper cost for children and their drink choice for children could've been a bit better suited. That said I'm being a picky, price sensitive father at this point. 
For an even more immersive experience families, can book the "Oh Bear!" package offering a night at either The Gore or The Pelham, a silly old bear afternoon tea and tickets to the exhibition. The Oh Bear! Package starts at £315 per room per night at The Gore and at £375 per room per night at The Pelham and includes breakfast and VAT.