By Chloe Review – Chic New York Restaurant Arrives in London
Summary
I rate By Chloe four stars, please go try their Fish n Chips, Mac n Cheese and one of their many Cupcakes. YUM!!!!
Conveniently located within Covent Garden, the mega-popular US vegan restaurant By Chloe has launched this month. Following successful restaurants in LA and NYC, By Chloe has decided to bring its award-winning, plant-based, fast-casual food across the pond to London.
Best of British
As well as all their US-loved recipes they've launched some exclusive London dishes:
Fish n Chips – If there's vegan fish n chips on the menu, I am guaranteed to order it. It's incredible how the right marinade and batter can really transform tofu. This is borderline 'I can't believe it's not fish'. The American's proved to be no rookies and served the vegan fish alongside tartar sauce, mushy peas and a wedge of fresh lemon.
Shepherd's Pie – Made using ground seitan (chewy, protein-rich, wheat gluten), mashed potato, veggies and beet ketchup. Personally, I've never been a fan of Shepherd's Pie as I believe pies are best made with pastry. However, I'm mighty tempted to try this British classic with a By Chloe spin.
Pea n Ham Soup – Is this a British classic? The things us vegans miss out on eh! Made with vegan ham, parsley and almond parm this dish has me extremely intrigued. Whilst not served on launch night, I may have to go back and sample this soup.
Sticky Toffee Pudding – The holy grail of British desserts. So happy to see this on the menu, even better to see it's served with whipped coconut cream. Non-dairy whipped cream is still quite a novelty for vegans, nice to see that By Chloe appreciate the importance of whipping.
Stand Out Classics
Kale Caesar – A vegan Caesar Salad complete with shiitake bacon, maple-wheat croutons, avocado and Caesar dressing.
The Classic Burger – Made with a meaty-tasting patty and a brioche style bun, the only thing missing from this burger is a slice of vegan cheese.
Mac n Cheese – Using a cheese sauce made from sweet potato and cashews, this was hugely popular on the launch night. The crispy mushroom bacon served on top brings together this masterpiece.
Sweets – With a collection of cupcakes and cookies there are more than enough vegan-friendly options here to satisfy a sweet-tooth. The chocolate cupcake I treated myself to was similar to a fondant fancy with a lovely hidden cream layer within.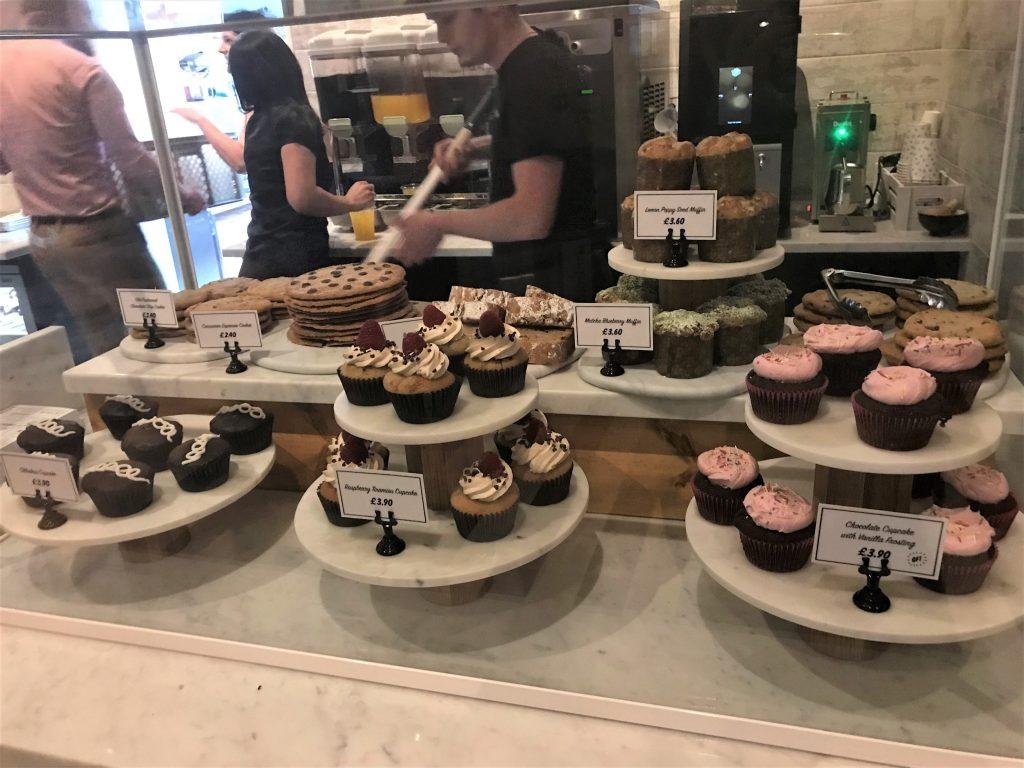 Overall
A restaurant like this is often found buried away in Camden or Hackney, so it's great to finally have an amazing vegan offering located in such a central location.
How much does it cost to eat here?
Beautifully crafted vegan junk food in the heart of London can be expensive, but these prices are pretty common for food in the city.
A Burger Meal: A Classic Burger (£9) + Baked French Fries (£4) + Seasonal Lemonade (£2.75) = £15.75
A Typical Brunch: Mornin' Glory (£9) + Oat Latte (£3.30) = £12.30
A Three Courser: Small Daily Soup (£3.60) + Mac n Cheese (£6.60) + Cupcake (£3.90) = £14.10
With reasonable pricing, this is a great restaurant for casual dining with friends, family and loved ones. The lighting, décor, and food are all created with insta-queens in mind, so you'll be sure to get your food shots.
Whilst I wasn't overly impressed with their famous burger (please try Mooshies in Shoreditch for amazing vegan burgers), their Fish n Chips completely won me over. With a vibrant menu and a great in-store atmosphere, I doubt it'll be long before they start to expand on their UK presence. 
Guest post: By the awesome Vegan dining expert and blogger Nicole Whittle. You can read her excellent blog 'Vegan by Nicole' or read our Veganuary interview and her top tips for Vegan dining in London.