Mamounia Lounge – Mayfair – Review
There are times within the vast and diverse world of cooking when a chef is given too much freedom. They have no clear direction and proceed to oscillate between a range of cuisines in a way that inspires confidence neither in style, nor in taste.
Such was the case at Mamounia Lounge. They describe themselves as a traditional Arabic restaurant with mainly Moroccan and Lebanese influence, and a fusion of Western cuisine. Bewildered? So was I.
We were led downstairs in Mayfair to their restaurant area that can be described as nothing other than a very cheesy, badly-lit nightclub. It was nearly empty – granted, it was a Thursday night – bar a few tables along the neon wall. A dessert sporting sparklers and half a dozen colourful cocktails in martini glasses were ushered over to a very drunken group of middle aged men near us, who proceeded to ogle at my friend and I all the way through 'Happy Birthday' chants. A little further down, in an inconspicuous corner, was a smartly suited man gesticulating at a young, blonde, very generously chested lady in a not-so-inconspicuous black dress. We wondered who they were to one another…
After eagerly gossiping for a while, we started to speculate as to whether our starters would ever arrive. Were they mushing the chickpeas from scratch?
With a very tiny spoon, perhaps?
Thirty minutes later, little plates began to land on our table. We were excited. And more to the point, we were bloody hungry. The Moutabel, aubergine puree with pomegranate seeds and lemon was light and perfectly satisfying. Not smoked for too long, lacking maybe a pinch of salt.
Unfortunately the rest of the dishes proved to be a disappointment. The Hummus with Truffle oil was indeed decoratively a work of art (so that's why it took them so long!), but the taste was all wrong. The paste didn't have enough flavour, and had been blended far too long, and the various bits of mushroom, salad leaves and nuts confused what should be a simple, effortless dish. It felt akin to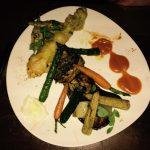 putting caviar on a piece of toast and marmite.
The Cheese and Vegetable pastries tasted nothing like cheese or vegetables. I'm fairly sure they came straight out of a packet. Even more upsetting was the trail of cheese sauce that accompanied them. The pitta bread was perfectly inoffensive, though clearly not homemade.
To follow my friend ordered the platter of stuffed vegetables. Most of them were caked in so much oil that she left feeling a little sick. She picked at a few bits, and left the rest.
I was recommended the Meshoui, a dish of slow roasted lamb shoulder, served with dates, orange and apricots with a Bouillon sauce on the side. The lamb was indeed very tender and had an extremely deep aftertaste. Sadly, I found it too much and had to leave most of it on the plate, but this may be a matter of taste. The apricots coated in honey, however, were absolutely delicious.
It was overall a rather bizarre experience, accentuated by the fact that they played fairly loud house music throughout, and a blinding, neon-pink light doused everything and everyone in the room, making every dish look like a Hello Kitty strawberry milkshake anyway.
The one element which saved us from total defeat was the service, however. We had an incredibly charming waiter – who, turns out, was from Sicily of all places – that worked very hard to give us recommendations and generally take fantastic care of us.
Summary
The service pushes the score up as the food was sadly really quite bad. I wouldn't come back for the food, but if I'm ever passing by, I may well take a seat under the heated lamps outside with a shisha and watch the strange world of Mayfair pass me by…