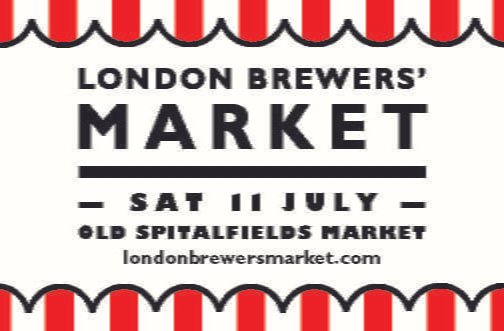 London Brewers' Market at Old Spitalfields Market – 11th July
If where you live in London doesn't have it's own micro brewery, it's not up and coming and you might as well move. I'm saying this because I'm pretty sure every borough of London has at least one, though I might be wrong. If there isn't there's likely to be one in the planning so maybe hold off on the move.
With so many breweries in London now it's hard to know where to go and where to get them all from. For me the beauty of these smaller breweries is also it's downfall. Friends have asked me if I've tried a beer only to follow it up with 'Ah I think you can only get it in Hackney' and as much as I love Hackney I'm not going all that way just to try a beer.
It's for this and many other reasons why I love beer festivals, I can try all the good local tipple while being relatively lazy, but with the added bonus of meeting the people behind the brews. Add in an Independent Label Market where you can buy vinyl and the back drop of Old Spitalfields Market and I'm a very happy man.
The line up for the London Brewers' Market is below and as you can see there's some of the big boys along side some much smaller outfits, many of which I've wanted to try for some time and some others I've never heard of.
The Five Points Brewing Company • One Mile End • Late Knights Brewery • Brixton Brewery • Camden Town Brewery • Fourpure Brewing Co. • Howling Hops • Beavertown Brewery • Signature Brew • Anspach & Hobday • Fuller's Brewery • Kew Brewery • The Redchurch Brewery • Gosnells London Mead • Meantime Brewing Co. • By the Horns Brewing Co. • East London Brewing Company • Crate Brewery • Partizan Brewing • Windsor & Eton Brewery • Honest Brew • Sambrook's Brewery • Hammerton Brewery • Canopy Beer Co. • Truman's Brewery
The good news is that the market is free entry and runs from 11am until 7pm. To be honest anything later than 7pm would
probably be a disaster, 7pm is about the right time to call it quits, if I spent 8 hours + of sampling that many beers I'd probably find myself in a gutter and making friends with a kebab.
While you don't need to book you can show your support and tell your friends via an RSVP on Facebook and of course follow news of the market on Twitter.
London Brewers' Market is organised and managed by The Five Points Brewing Company. Which is pretty cool of a brewery to invest time and effort into helping to promote other breweries. They seem to do this a lot, as they run events where people can chat with the teams behind great local breweries, sample their brews and learn about the lively independent brewing scene in London.
They also involved in other events to help spread the good word about London's independent breweries, such as curating the beer line-up at Field Day, though you'll have to wait for June 2016 to go to that!