5 Top last minute Halloween events that are happening in London
Looking for some last minute ideas for what to do this Halloween because the 'world is going to end' because you forgot to arrange something? Then LDN Life has you covered with 5 of the best bits that hit our inbox over the last few weeks.
End of the world Halloween party at the GOAT in Chelsea 
The GOAT comes first because they provided the above video and we reviewed them not so long ago. If they are half as good at throwing a party as they are at making cocktails, you'll be in for a right treat and you won't feel tricked out of the £8 entrance fee. They also get bonus points for actually having the event on Halloween rather than the weekend. More info and tickets here
View this post on Instagram
2. Brixton Village Handson Family Halloween Jam 
October 27th Chris and Cyndi will be playing an upbeat, fun selection of beats and treats as part of a new Brixton Village music series. Throw in the amazing food it and Brixton has to offer and you're going to have a great time. On Halloween itself there's French Mama: Mix champagne with gooey raclette as special guest DJ French Mama lays down some delicious grooves. which is nothing to do with Halloween unless you're not a fan of French cheese, are teetotal and have mummy issues, but perhaps we are ready too much into it.
3. Dead Good: Live – Prince Of Wales – Brixton 
Staying in Brixton we also have the Prince Of Wales which will be hosting a monthly tribute to the dead, launching on the ultimate day of the deceased – Halloween. Creaking open the coffin on the 31st of October, Michael Jackson will be brought to life for a thrilling extravaganza set to set the spooky precedent for the months ahead. Fans of the iconic can expect every last Wednesday of the month to be filled with tributes to the superstars we've lost. November will be dedicated to the highest priest of pop, Prince, whilst December will celebrate the hits of George Michael and Wham!
Expect the night to end with a midnight set from DJ Crash'n'Burn, playing the finest in vintage funk and soul till late. For more information visit the POW website
View this post on Instagram
4. Union Chapel presents immersive Halloween experience
This Halloween – when the veil between the worlds is thin – Union Chapel invites you on an experiential journey. 'Medusa: The Transformation' is a unique visual performance of live music, projection mapping, soundscapes and ritual, presented by artist and musician Boe Huntress.
Tickets are £15 and available here
5. Boxpark Croydon – Boxpark's Dark Circus
On Saturday 27th October, Boxpark's cavernous Croydon site will be hosting Dark Circus, featuring a line-up of scream-tastic live performances from the likes of Artful Dodger, Sonique and Donch. Consumers should get decked out in their best fancy dress and be prepared for Halloween-themed cocktails: Bat's Blood Mojito and Devil's Juice. Tickets are £5 and the event is 6pm-11pm.
Tickets are only £5 you can get them here.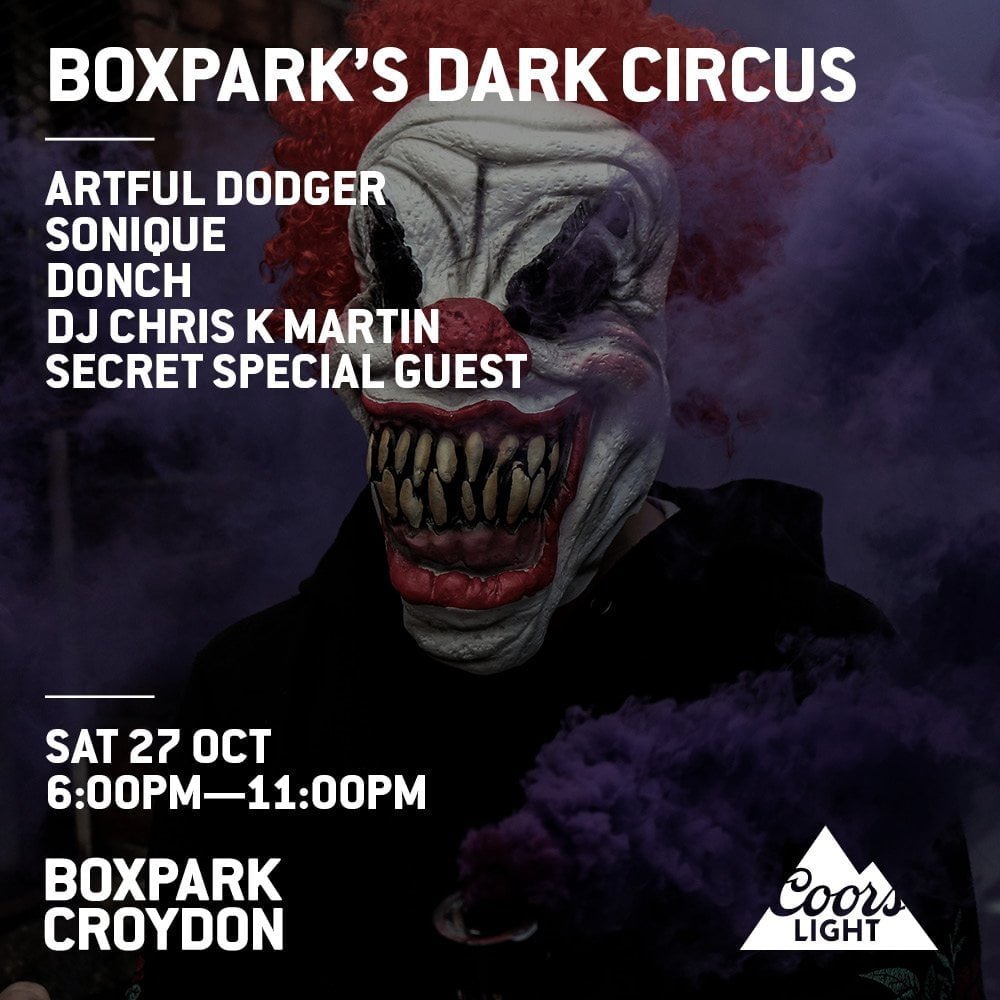 Not doing it for you? Time Out has a pretty good list of Halloween Events that are worth checking out.