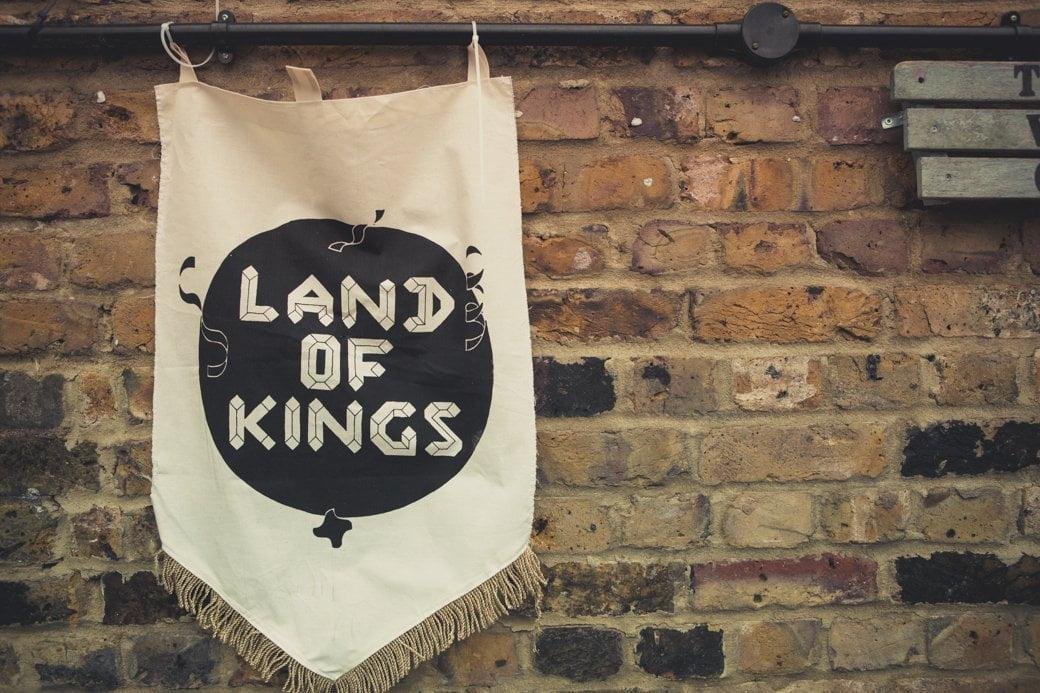 Summary
The Land of Kings are excelling at bringing together some of the best venues in Dalston for great music, fun and dancing. I would gladly go again next time and probably have yet another completely different yet equally good experience.
I was a little nervous about going to Land of Kings festival again. Why? Because I'd had such a good time the last time, I didn't think it could live up to that. This time around I had a very different experience but it was still a total blast.  For those of you who don't know, the Land of Kings is a multi-venue festival, bringing together the best bits of Dalston for a day/night takeover.
I ended up getting there a bit later than I would have liked and, due to meeting quite a crowd of people, we didn't really get exploring until at least 7:30. We grabbed some scran from the Street Feast yard and made a game plan – go out to the furthest point and work back. We more or less stuck to this but didn't get quite as far back down Kingsland Road as we'd hoped.
I was a little disappointed with Street Feast (again). I'd hoped it would be the full-on Street Feast experience but over half the traders there on Fridays and Saturdays weren't around. Never mind – I had two fabulous sliders from Le Bun, one a chicken truffle maple syrup waffle, the other a duck confit. I also wanted a red wine and was told they didn't have any. None at all. Disappointing but I at least made do with a rosé.
We set off to the Total Refreshment Centre but got sidetracked by the new venue Epic which was hosting the Castle Stage. This was quite a strange venue – was it an old bingo hall? Dance hall? That might explain the chandelier… we couldn't really tell. The act we watched first were quite good. A bit of poppy dance stuff. We were all ready to move on to the next place after this, mainly because of the drinks selection here. Land of Kings is seemingly obsessed with (or sponsored by) Desperados beer. Last time we couldn't avoid it and thus it was in the Castle Stage. No one wanted to drink them. And neither did we really want to drink the only alternative – cocktails from Soul Shakers (mainly because they were £7 to £8.50 and no one wanted to spend that much). We were keen to get to a place with its own, normal, bar. However, we had to wait for my friend to arrive so I managed to have my full quota of the rum punch. Apparently you were only allowed two, presumably as they were so strong but I can't say the two I had affected me much, hardened drinker that I am.
So then we went down to Birthdays which was the highlight of my night. A few nice drinks and some chatting upstairs and then we went down to watch the awesomeness that was Ultrademon do a bass-heavy set encompassing trap music, grime and hip hop. We also happened to make friends with (ok, just say hello to) Alexandra Roach from Utopia.
After this I let myself be led to the next closest venue – the Alibi. Things get a little hazy here as someone (not me, I swear!) decided sambucas should be necked. There was some dancing. While we were there Andrew from Huntley & Palmers and Lena Willikens had their sets and got us up dancing.
We had to make a decision – gamble with getting into Oval Space or resign ourselves to not making it and decide where else to finish up. We went with the latter and made The Nest our final stop. I'd seen Krankbrothers before and knew I liked them, and once again I did, though I was a little disappointed that The Nest wasn't busier.
The way things panned out I didn't manage to find any of the more quirky things going on like Hot Breath's area or the Dungeon Disco or get over to the cabaret. You really need to get stuck in some kind of Groundhog day to be able to see and do everything they have at this event.