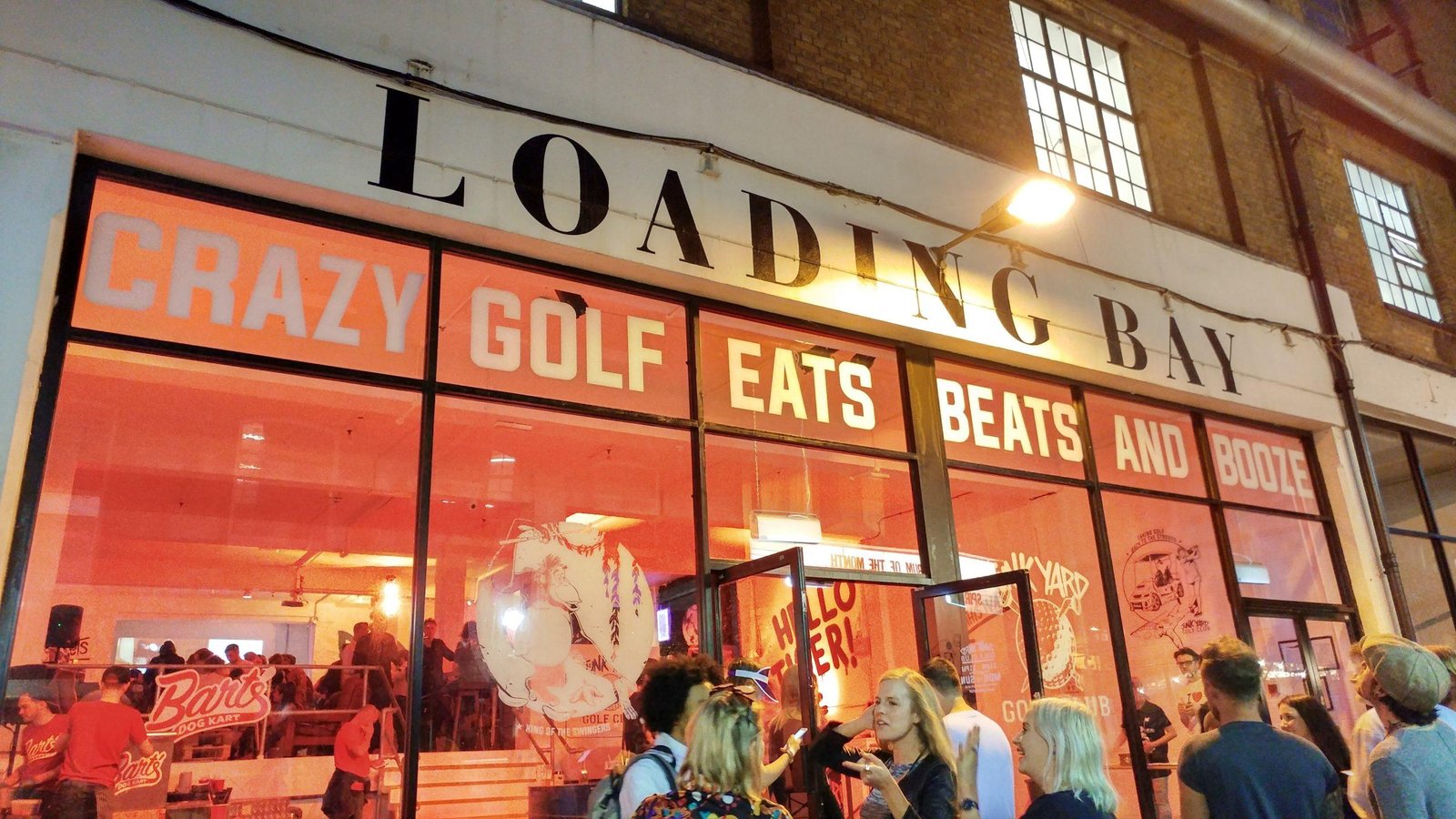 Junkyard Golf Club London – Review
We were very excited, here at LDN Life to be invited to the launch of Junkyard Golf Club, emphasis very much on the on the club.
You'll find the venue down the bustling central row of The Old Truman Brewery, just off Brick Lane., beside popular bars and busy eateries. Their cocktails have rare ingredients and punny names like 'TeeDiddy' and 'Who's Your Caddy'. There's food available from two different vendors and music from the live DJ.
You would be forgiven for spending an entire evening here eating, drinking and dancing the night away, thinking you were in a rather eccentric golf themed bar, without ever experiencing what lies beneath the surface.But should you follow the 'golf this way' sign down the rabbit hole to the caddy shack, you'll find yourself in a cavernous basement a crazy junkyard themed golf wonderland.
The venue itself has lots of space to sit and enjoy your food and/or drink when you're not getting in on the golfing action. There's a fair variety of drinks, including a cherry lambrini cocktail, but honestly, too much ice and too little mixer for me.
The food comes from 'Bart's Dog Kart' serving up hot dogs with toppings like pastrami, crispy onions, jalapeños and pickles. And 'Big Grillie Style' offering pimped up cheese toasties. The hot dogs were great and I didn't get to taste anything from 'Big Grillie Style' but heard good things from those who did.
The highlight of course, is the golf itself. With obstacles pulled from the scrapheap, boats, tires, washing lines and much more besides. You have the option of playing one of the three course all with different styles. Pedro 'Polluted Paradise', Frank 'Putt Up Or Shut Up' and Helga 'In Da Club'. We had a great time playing the Helga course.
12th May – 7th August
7 days a week 11AM – 11PM
The Old Truman Brewery
Junkyardgolfclub.co.uk
Golftastic
Summary
The venue choice fitted the theme perfectly and the golf was great fun. I would have preferred a little less ice a little more cocktail in my drinks, but the food hit the spot with tasty hot dogs that came with a good variety of options and spicy nachos! 🙂 Overall a great night out with everything you could want. Music, food and drinks and good fun. I'll definitely be going again soon.
Comments Rating
( reviews)