Bar Tozino – The first, the best, the only Jamon Bodega in London
I had been looking forward to having a soiree at Bar Tozino ever since I had sampled their meats at Taste of London earlier this year. Their mouth-wateringly excellent Jamón ibérico which melted on my tongue has since, left a lasting impression on my taste buds; a longing which couldn't be satisfied by even the best Prosciutto or Serrano Ham available in Waitrose.


Bar Tozino is a no booking bar so after a quick trip to Brew by Numbers and Anspach &Hobday in Bermondsey we arrived at Bar Tozino at around 6 where luckily we were able to find a table straight away. I was blown away by the rustic charm of London's first and only Jamon Bodega, with cured pork legs and shoulders hanging from wooden beams in the ceiling, dim lighting and uneven tabletop counters. It was amazing to see Jamon carvers behind the bar meticulously slicing delicate pieces of porky heaven onto wooden boards. We spent over £50 on meat platters alone greedily gobbling the best Spanish ham, Jamon iberico de Bellota, these are black footed, free range pigs which feed on acorns; their meat is cured for at least 36 months and the delicious flavour is all down to the pig's diet and exercise.
Alongside our beautiful Spanish meats my partner and I also treated ourselves to a rich and berried Rioja and a baked slab of oozing cheese made out of sheep's milk. As the evening went on, the bar filled with excitable Bar Tozino virigins like ourselves, Bermondsey locals(and their dogs) and socialising Spaniards looking for an authentic piece of home.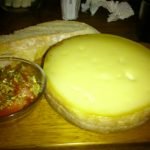 The essence of Spain is captured perfectly under this charming little railway arch. It's not just the food and social atmosphere; it's the little things that remind me of bars in Spain like throwing your used napkins on the floor when you've used them. It's the large wooden barrels for standing tables and the minimal seating and tumbler style glasses for wine.
I can't recommend Bar Tozino enough and I will be sure to make this one of my regular haunts. If you want some of the best cured ham in London, and an atmosphere you just can't find anywhere else in London then head down with your friends to Bermondsey. One piece of advice- if you're above-average-greedy pig like me, don't go on a completely empty stomach unless you want to spend well over £50 on meat alone!