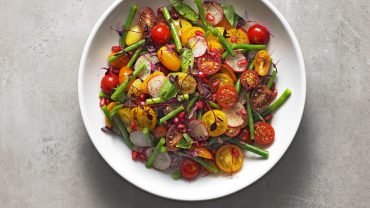 Vegan Dining: The Wildflower Review
Summary
Overall, I'd give this restaurant 4 stars. The menu is well priced, the recipes are creative and innovative, the space is beautiful (#instagold) and with a kids menu, this place is also family friendly. The only con is that Peckham can be difficult to reach depending on your side of London. I'll definitely be finding a reason to return.
Until my visit to The Wildflower I hadn't before set foot in Peckham. With an edgy student vibe made obvious by the urban graffiti art and the trendy local hipsters, this corner of London is a great place for new innovative restaurants. Found within Peckham Levels, the local answer to Boxpark, this vegetarian restaurant/canteen has a great, chilled out atmosphere.
The Launch night was full of vegan-friendly canapés, with waiters getting pounced on with each new plate. The dishes served ranged from smoked tofu kebabs to salted caramel brownies with all receiving great feedback from guests.
Vegan Salted Caramel Brownies
The salted caramel sauce served atop this was incredibly indulgent and thick which is rarely achieved in vegan desserts. The brownie tasted heavier than I would have liked, most likely made from dates.
House Layer Potatoes
With thinly sliced potatoes and a delicate serving of oil, this was the perfect comforting combination of carbs and grease.
Mushroom Broth
This dish used king oyster and shitake mushrooms to create a delicious broth with a gentle chilli kick. As a huge fan of mushrooms, this dish had me slurping down every last drop.
The Celeriac remoulade, radishes, watercress and toast
A particularly fancy snack which would look fantastic on any Instagram feed. Surprisingly delicious and fresh, a winning combination.
The Alcohol
One of the hardest struggles dining as a vegan is alcohol. Wine and beers aren't always vegan and labelling is far off from making this easy to decipher. Thankfully The Wildflower have a vegan wine and beer list making it easy for vegans to split a bottle with friends.
The lights were low at the Launch night, giving the restaurant an alluring atmosphere. With live music and full tables, The Wildflower is a great place to let your hair down as well as tuck into some great food. In the light of day, things are more relaxed and the minimal, fresh décor is appreciated. The house plants are particularly beautiful and on point.
I'm already looking forward to taking my boyfriend back to The Wildflower for weekend brunch or an evening meal out. I'd most likely return for their seitan sausage sarnie with red onion jam, swede fondue, pickled veggies and warm buns or their coconut dal served with onion squash and flat bread.
For more info, visit the Wildflower website
Guest post: By the awesome Vegan dining expert and blogger Nicole Whittle. You can read her excellent blog 'Vegan by Nicole' or read our Veganuary interview and her top tips for Vegan dining in London.