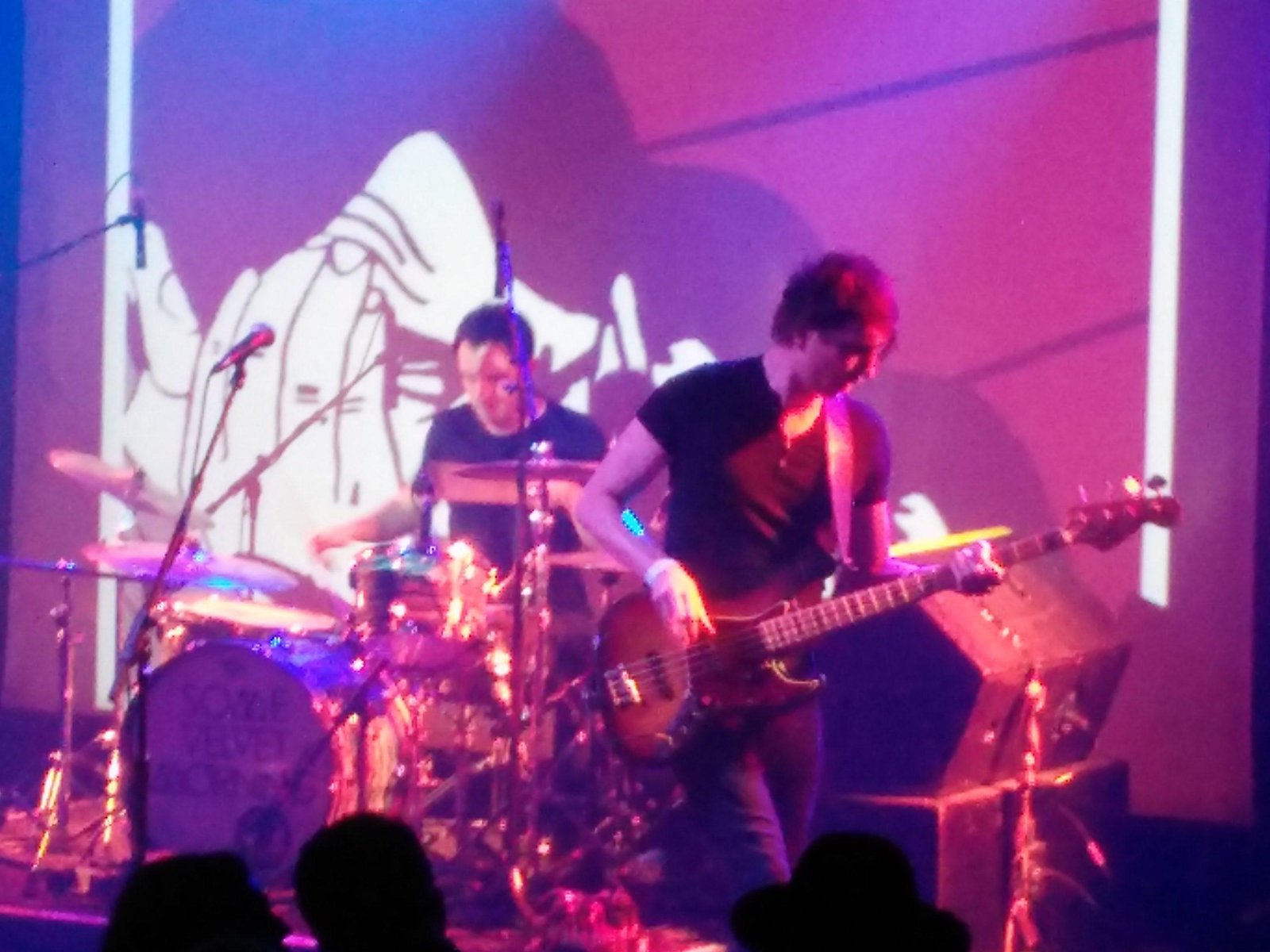 Some Velvet Morning – Scala, Kings Cross – for Give a Gig Week
Some Velvet Morning, Scala, for Give a Gig Week
If you know three-piece indie rock band Some Velvet Morning, chances are it will be for their 2010 single How to Start a Revolution from the movie Kick Ass.
Naturally, SVM's set at the Scala on 9 March included this aggressively danceable indie floor-filler. But it also showed off to grand effect the variety of music the band has written since forming back in the early naughties, from the polished blues of Silence Will Kill You, through the throbbing momentum of No Walls, to the stadium-grade NY City Cell.
The latter is right out of the U2 playbook (when U2 were good, that is), complete with jangly guitars and crowd-bobbing build to soaring chorus. The set was spattered with new material, presaging the band's third album, due this year.
The Scala gig was a pre-taster of Give a Gig Week, organised by young people's music charity Youth Music.
Running 24 – 31 March, Give a Gig Week features over 120 live music events taking place across the country in living rooms, iconic music venues, schools and nightclubs, including big-name places like the Hard Rock Café and Ronnie Scott's in London to the Sage Gateshead and Liverpool Philharmonic Hall. A huge variety of genres are represented, from indie bands and hip-hop to classical choirs and jazz quartets.
Gig-tastic
It's too late to catch SVM, but there are plenty of others still available during Give a Gig Week. For example: electronic dance outfit The Rhythm Method on 22 March at The Blacks Club on Dean Street; jazz, soul and beatboxing from Si Connelly, Ina Reni and Dana McKeon on 23 March at the Inamo Live Lounge in Covent Garden; and events all week across London from Romford to Ealing, Hatfield to Dorking.
You never know who might turn up at these Youth Music gigs as a guest performer. For example, Grime star of the moment Stormzy showed up at Ray BLK's Village Underground event on 27 February.
Funds raised from the events will support Youth Music's work with young people with challenges from poverty to disability and mental health issues. So you can enjoy a gig AND know you're contributing to a worthwhile cause. Youth Music supports 350 projects each year, aimed at developing personal and social skills through music for over 75,000 young people.
Youth Music has an impressive track record of birthing new musical stars, such as Mobo Award-winner Laura Mvula (also nominated for Mercury prize last year), hip-hop duo Rizzle Kicks, grime artist Elf Kid, and pop duo Let's Eat Grandma.
Some Velvet Morning didn't come from the Youth Music stable, but drummer Rob Flanagan and brothers Desmond and Gavin Lambert are still humble enough to have appeared in the bar to mix with their fans 20 minutes after leaving the stage. Nice touch, guys.