Rhythm Kitchen @ Westfield Stratford – Review
Summary
At first, I was dubious because...... well Westfield, but we were pleasantly surprised. If you're there, try it, you might be pleasantly surprised too.
The 'restaurants' in Westfield are a funny business. I automatically feel I want to dislike them because they're located in a shopping mall and therefore I associate them with chains and, consequently, being of dubious quality.
But of course a lot of them started as restaurants in their own right, such as Rosa's and Franco Manca which shows that this level of the Food Court is trying to up the ante somewhat. The newly added Rhythm Kitchen is a case in point. And they have just refreshed their menu serving up Caribbean food and all things jerk to the masses. 
I wanted to try a variety so we ordered the 3 little jerks sharing platter. 'Little' may have been a misnomer. The plate was piled high with juicy meats – chicken, pork and ribs. Then we had FOUR sides to pick and we went Carb Overload. Rice n peas, jerk chips, sweet potato fries (very well executed) and some coleslaw.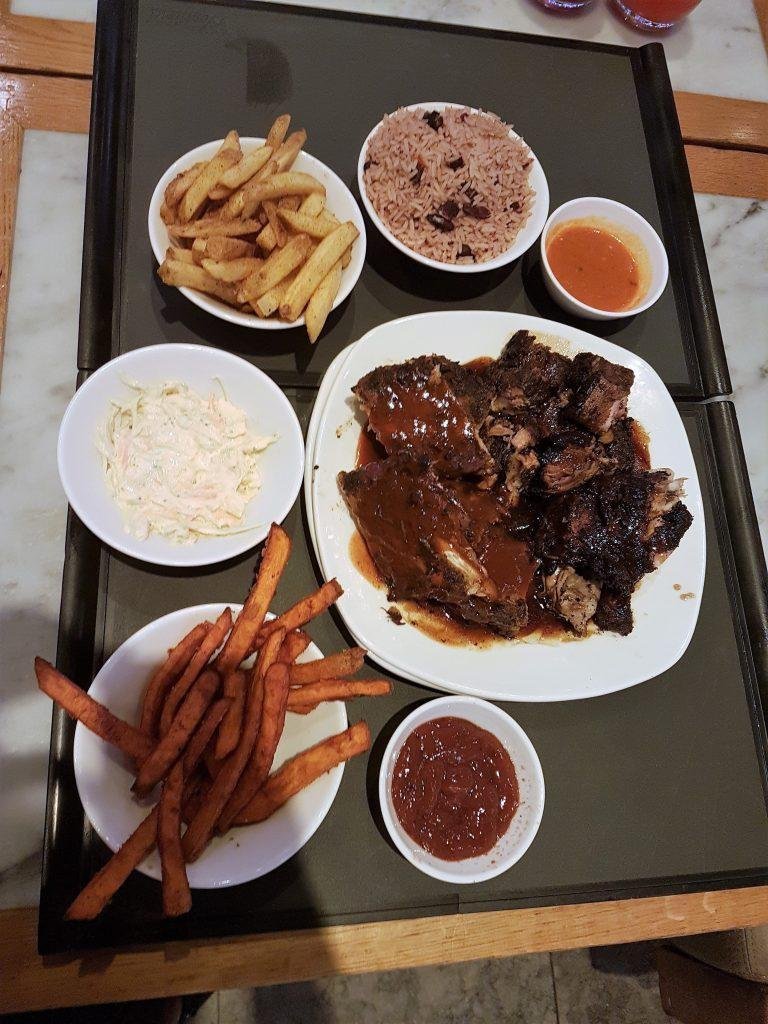 I spoke to the manager who was very friendly, explaining that their sauces and dips are all made in-house, nothing comes from a packet and giving me recommendations on what drinks to try. If you like ginger beer, then their own-made sorrel is a very pleasant alternative.
As is the way with Westfield, there was not too long a wait before the buzzer went and I brought back our feast. All of the meat was juicy and tender, with the jerk being pleasantly warming but not too spicy for most palates. As I said, I particularly liked the sweet potato fries and the coleslaw which was not overly creamy and plenty crunchy. 
If you like heat, definitely ask them for their scotch bonnet sauce – it's fiery but handleable in small doses (I thought). The jerk ketchup is a less intense but still very tasty alternative for those who can't handle the heat. 
My dining companion was equally impressed with the food, saying he'd be very happy to go back and it even inspired him to post on Facebook about the pleasant experience.