From The Jam – Under The Bridge, London – Gig Review
Summary
There was enough of a new sound to make this more than a flash in the pan revival. I'd encourage From The Jam to keep going and Keith to keep watching!
I'd been waiting a long time for this gig. I was 15 years old the last time I saw The Jam and I'm, well, as I said, it's been a long wait. Was it worth it? One of your childhood heroes onstage playing the songs of a generation? Of course it was worth it.
I'd arrived at the venue early just in case. You just reach a certain age when you leave early enough and arrive early enough, just in case.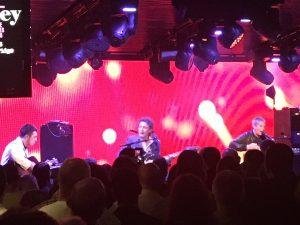 This was one of those days. I'd waited 30 years. I didn't want to miss it. Half a dozen men 'of a certain age' waited patiently for the doors to open. Last time I went to a Jam gig there was rioting. This made a pleasant change.
Under The Bridge lends itself to intimate gigs like this. Nestled (literally) underneath Chelsea's football grounds at Stamford Bridge, it's a modern facility that hasn't quite made up its mind if it's a nightclub or a music venue. Crucially for 'The Men of a Certain Age,' it boasts a crescent of barstools at the back of the auditorium/dance floor. We gratefully assumed the sitting position and awaited something that we could point at and say, 'That's Entertainment.'
It wasn't in the first half though. I sat through a set from The Chords UK wondering if this is really what it had come to. Parked at the back of a dance floor listening to a load of old blokes shouting that, "This is the British way of life now. I swallow my dreams like my beer." In fairness, that pretty much summed up the experience up to that point.
But it gave me a chance to talk to my neighbour on the bar stool – we'll call him 'Keith'. Keith was from Letchworth in Herts. Mid 50s, greying beard, two pints of bitter, both his. He would have passed as 'normal' to the untrained eye. Unlike the pensioner near the front of the stage with the Weller hairstyle including high squared fringe and crafted-round-the-ears sideburns. He looked like he was on day release. But not Keith. Keith sported a discreet Fred Perry polo shirt on top of which he wore a discreet Fred Perry sweater and completed the ensemble with a discreet Fred Perry bomber jacket.
Keith told me that he was effectively following From The Jam around the country and they were great. They were always great. Always had been, always would be. I was in for a treat. He was right. And we didn't have to wait long.
The three-piece acoustic lineup seemed light when the band walked out and sat down, but that was just my instinctive reaction. In fact the sound was excellent. Russ Hastings on acoustic guitar and lead vocals, Tom Heel on keyboards and acoustic guitar and Bruce Foxton front and centre on bass.
It's a great combo. Flavours of The Jam but somehow updated to a more contemporary sound. Clearly that's the influence of Hastings and Heel, but inevitably Foxton's sound has also matured over the years. The result was a very clean and distinctive update to some well-loved classics.
And tight. That band is tight. It is undoubtedly Foxton holding the trio together, and doing it like a boss. He was the big surprise for me on the night. Last time I saw him he was just leaping around, making a noise and in essence following Weller. This time he was leading. There's a difference. Hastings was doing all the talking, but it was Foxton who made the band.
If Foxton's bass playing was tight, his harmonies were even tighter. It was the best harmonised version of, That's Entertainment, I've heard in 30 years. He sat there with a wry smile on his face and just delivered. Confident. Professional. All of the star qualities you want from your iconic heroes with none of the bullshit.
Russell Hastings is a good choice for vocals. Slightly Weller, but not tribute band Weller. He knew the songs. He respected the songs. But he wasn't copying the songs, he was playing them. Of all the hits they played (and they did play them all), my favourite was, Man In The Corner Shop, originally from the 1980 Sound Affects album. I listened to the original after the gig and I prefer the way From The Jam is playing it.
It was a bit of a trip down memory lane, but not just an evening of nostalgia. There was enough of a new sound to make this more than a flash in the pan revival. I'd encourage From The Jam to keep going. They need to attract younger non-Jam fans, but the venue was still packed and bouncing and not just with geriatrics.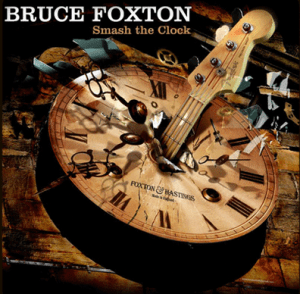 On the night the band played a couple of From The Jam original tracks, almost apologetically. They need to apply the confidence they have in the old tracks to their new ones. Sure, the new songs aren't the famous ones, but they don't become famous until they've been played for 30 years, so the sooner they start the better. Let's face it, none of us are getting any younger…
The new From The Jam album, 'Smash The Clock' is due out on 20th May 2016
The band has UK tour dates available throughout 2016 – go see them.