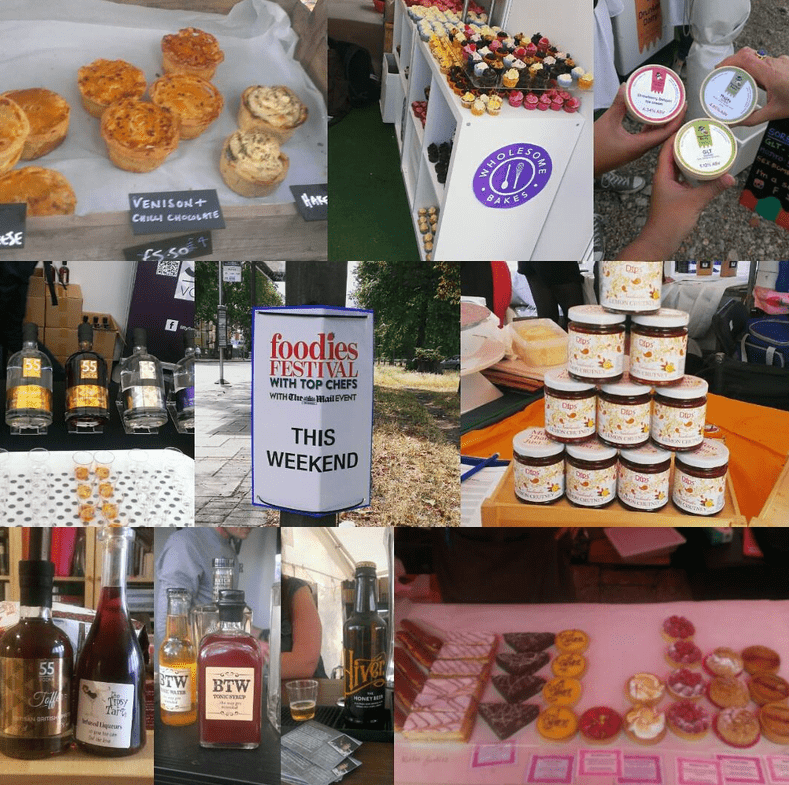 Foodie Festival – Clapham Common – Review
What a buzz! The sun was shining, the aromas wafting, the taste buds salivating. Thousands of people in cheery summer attire had descended upon Clapham Common for the Foodies Festival browsing from stall to stall, sampling free tasters of all kinds, from savouries, to cakes to drinks.
The atmosphere really did feel like a festival: pleasure and enjoyment flowing around, helped by the many different varieties of food and drinks available. The stalls presented an excellent selection of cuisines from around the world as well as fusions and variations. There was the pie stall (Artisan Pie Company) selling traditional English pies as well as vegetarian ones with a curry filling; the brightly coloured bubble tea stall, the ever so pretty vegan cake stall (Wholesome Bakes), providing guilty pleasures for people with allergies (by the way, in case you were wondering), the cakes were delicious.
Boursin, the cheese people had erected a sensorium, which was an amazing 3D trip through a refrigerator: gliding over tomatoes, flying through the green stalks of spring onions and ending with the sight of chilling champagne bottles.
In addition, while waiting in the sensorium queue, Boursin staff were constantly circulating with trays of French bread liberally spread with Boursin. There was a real danger of having a Boursin overdose.
The Festival was really well organised, with seating areas, a first aid post, a cash point and clean conveniences. My only criticism would be that a third row of stalls were rather hidden away and we didn't discover them till we were leaving, which was a real pity as they had the pancake stall I'd been searching for; unfortunately I was too full to partake by then. So, Foodies Festival next year, please give all the stalls space to shine and sparkle.  
By Ravinder Randhawa
We were lucky to be visiting the Foodies Festival on Saturday which turned out to be the only day of the festival unvisited by rain, despite being overcast for part of the day. In anticipation of getting to try lots of tasty food and drink we forfeited breakfast, arriving hungry, we weren't disappointed immediately being offered ravioli tasters (Ravioli of Verona) followed by many, many more including artisan spirits, flavoured ciders, breads, dips, sauces and sweets.
I enjoyed the mixture of up-market catering and home-style creations. My favourite items from the festival were the violet and cherry infused liqueur (The Tipsy Tart) and the pork and honey-mustard sausage roll (Pig in the Middle). 
I was surprised by small the festival was when we first arrived, judging by the number of areas listed on the website I was expecting it to be much larger. That being said once inside I could see that every square inch was being used, with stalls and food trucks squeezed side-by-side into fairly tight rows and the theatres for cooking, baking and drinks tasting tucked neatly to the edges. In fact we spent a good five hours there without running out of things to look at and taste.  
The down side of the this packed site is that an entire row of stalls, to very the left when you entered, was very easy to miss, we only found it as we were on our way out. A pie stall, a patisserie, a cider hut, a honey beer stall, a liquid nitrogen ice cream stall (where you pick the ingredients and they make the ice cream in minutes in front of you using the liquid nitrogen) and more.
Speaking to some of the stall holders in this area they told us that they'd had a much smaller footfall than the rest of the festival, which is a shame since there where some really nice products on those stalls, including the pies (Artisan Pie Company) and pastries (Comptior Gourmand) we took home ourselves. I hope next year they have a fairer layout.  
It was great to get the chance to speak to the stall holders about their products; both how they make them and how they got into the making of them. The lemon chutney (Dips) whose lemons are preserved for up to 3 months in herbs and spices. The cookies and cakes (Wholesome Bakes; gluten, dairy and nut free) whose creator started the company after making cakes for family and friends with allergies, as they say on their website "everybody deserves delicious cakes".
By Kiran Kukar    
Kiran and Ravinder's ratings for some of the food they tried on the day:  
Chilli Sausage Roll from Little Jack Horner's – 3/5 tasty but would have preferred more flavour
Violet and Cherry Infused Liqueur from The Tipsy Tart – 5/5 so good we took some home, also enjoyed their Lavender, and Blackcurrant flavours
Sparkling Elderflower Presse from Heartease Farm – 3/5 does what it says on the tin
Cakes and Cookies from Wholesome Bakes (gluten, dairy, nut free) – 4/5 didn't taste like they were missing anything!
Polenta Ball with Vegetable Ragu from Friuiliamo – 1/5 disappointing
Toffee Vodka from 55 Above – 5/5 basically liquid alcoholc toffee!
Mojito Sorbet, GLT Sorbet, and Strawberry Daiquiri Ice Cream from Drunken Dairy – 5/5 tasted like the cocktails they were meant to be and generous portions as well 🙂
Pork and Honey-Mustard Sausage Roll from Pig in the Middle – 5/5 so good, my favourite thing from the whole festival
Crispy Duck Wrap from The Duck Truck – 4/5 great plum sauce and plenty of shredded duck but not enough salad
Cloudy Apple Cider from Strongbow – 2/5 not great
Lemon Chutney from Dips – 4/5
Challah Bread from Yosi's Bagels – 4/5
Curros from Churros Garcia – 4/5 I would have like more cinnamon
Venison and Chilli Chocolate Pie from Artisan Pie Company – 3/5 a great hit of chilli and packed full but too dry for me
Steak and Stout Pie from Artisan Pie Company – 5/5 great flavour and also packed full
Pastries from Comptior Gourmand – 4/5
Summary
Foodies Festival delivered on what it promised and we were very lucky with the weather. The only let down being the stalls that were seemingly hidden away and we didn't see until the end, at which point we were completely full.