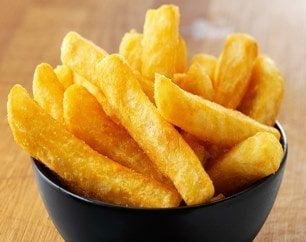 9 top tips for dining at home
Here at London Life UK we love to eat out whenever we can, after all it's what Londoners do, but there's only so often we can go out before we find ourselves counting the days until pay day. That doesn't mean we have to scrimp on food and fun at home or spend hours preparing everything and this is something McCain knows a lot about. So if you fancy yourself as a bit of a chef or perhaps planning a date night, then these 9 top tips from McCain might be just what you need.
1) How to create a great dining experience at home
Money might be tight but there is no shortage of ways to pamper yourself and your loved ones and top of the treat list is recreating the experience of a dinner out. To create your own romantic evening in, read on for hints and tips you can try at home.
2) Timing
The key to a smooth service is timing. Although the meal should be sophisticated, it also needs to be easy to cook whilst you're at the table entertaining your guests, so decide what you are cooking well in advance. There is no shame in serving fries as these are found on even the most elegant of menus.
3) Fries go well with some of the best meat dishes: roasted chicken, seared tuna or fresh sausages are all good options but you can never fail to impress with a great steak recipe. Not only is a steak delicious and flavoursome, it is beautifully complemented by McCain fries.
4) Portions
If you are serving bread, appetizers and three courses, be aware this means you might want to cut down on the sizes of each plateful. Small, elegant platefuls will help to mimic the feel of restaurant dining.
5) Set the scene
So much of the magic of a night out is created by the ambience of your surroundings – luckily this is something that is fairly easy to reproduce at home. Choose a small table to produce a feeling of intimacy, invest in a white linen table cloth and create visual interest by placing your dining table by a window or a French door.
6) Light up the night
Although white non-scented candles are always a good bet, discreet lamps can also help you achieve the right effect. Adjust dimmer switches to get the perfect glow.
7) Soft sounds
Opt for mellow music that will allow you and your loved ones to chat. If you want to stay true to the restaurant vibe, classical or jazz are the perfect choices.
8) Table arrangements
Nothing says sophistication like crisp white linen so stock up on a smart tablecloth during a department store sale. Keep the table arrangement simple with plain china plates, a discreet floral centrepiece and perfectly polished water glasses and wine glasses.
9) Coffee and desserts
Try to get your desserts ready and beautifully plated ahead of time as this will allow you to maintain a smooth service. It is also possible to have your cafetiere pot ready so you need only boil the kettle!