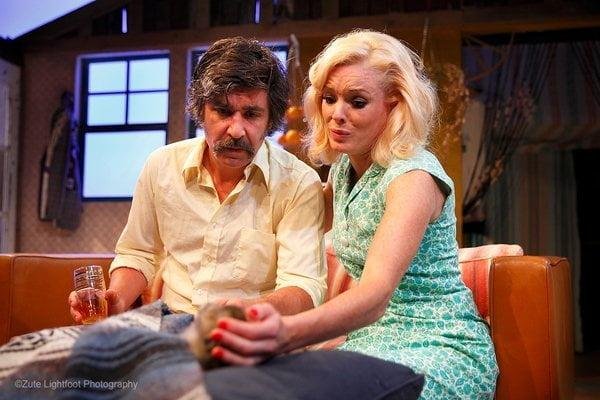 The Dead Monkey is billed  as "bleakly comic and darkly original" and claiming to examine the sphincter of modern life through the lens of a grimy American marriage, where the relentless march of time has taken its toll on two people with a monkey metaphorically and literally on their shoulder.
I'm ashamed to admit that having lived in London for seven years, until last night I had not been to the Park Theatre. Now I've finally been I'm happy to report that it is a really decent venue, and on a summer's evening it's a relaxing place to take some time out.
I was lucky enough to go to the 'gala night' for The Dead Monkey, meaning that the audience was as star studded as the stage! Settled between Inspector Jap and Alistair McGowan, I was ready to enjoy this intense production of the play written by Nick Darke.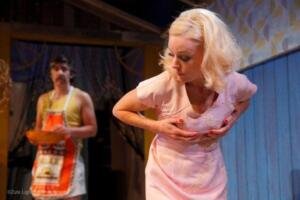 The stage was set. Sun, sea and sand was the theme of the beginning of the play, as the two main characters, Hank and Dolores, seem utterly isolated in a beach hut-style home. This isolation at first seems comforting, as the characters clearly know and care for each other deeply and seem to need no-one else.
Apart from the monkey.
Who is dead.
This event sets the atmosphere for the rest of the play, bringing hidden secrets out into the light. The cracks in the relationship appear quickly, but just as soon retract as they realise they only really have each other.James Lance's portrayal as Hank is loud, obnoxious and hilarious, as his voice booms around the auditorium, and the repetition of certain lines are delivered so well each time as to get the audience in fits of giggles.
Ruth Gibson uses her physicality to portray the part of flirtatious Dolores, constantly throwing herself around the stage with perfect comic timing. She challenges Hank throughout, and is a force to be reckoned with. The third and last character is that of the vet, played by Charles Reston, who appears at the most inopportune moments and brings out the 'public facing' side of the couple, forcing them to behave until it all gets too much for them.
Possibly the best line in the play is from Hank, with:
"What kind of a world do we live in where an innocent pig can't frolic around on the beach without having its fucking head bitten off?"
This is a true masterpiece of tragicomedy, as the characters battle with each other for space, attention, love and most of all recognition.
The shows that the Park Theatre is putting on over the coming months look amazing, and I'll be going out of my way to visit again.
The Dead Monkey
Summary
The Dead Monkey is a dark comic drama set in an isolated beach house, revolving around the relationship of an erratic couple and their monkey... who is now dead. This is a true masterpiece of tragicomedy, as the characters battle with each other for space, attention, love and most of all recognition. The Park Theatre has a hit on its hands