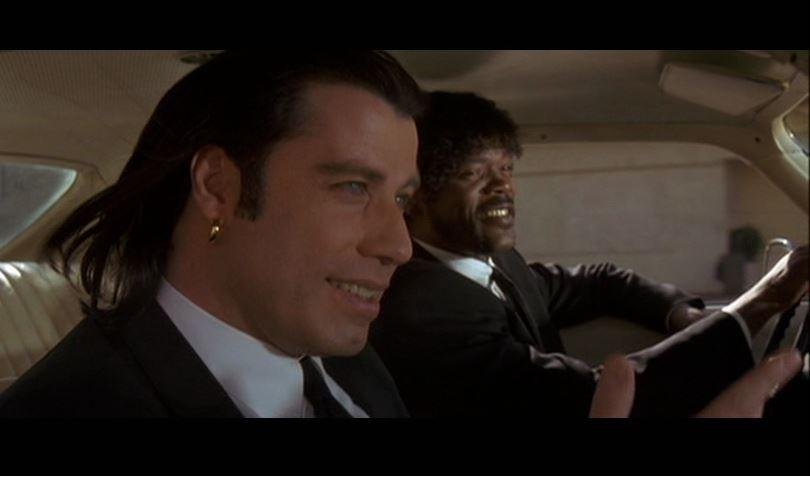 Bootleg Banquet Tarantino Tease Supperclub – 22nd November
We love Supperclubs and Pop Ups as much as the next person, but when it combines some of our favourite foods with Tarantino's films, well then that's when we get really excited!!
So here is some serious gourmet shit from Bootleg Banquet's Tarantino Tease, which we are told still has a few tickets available at this Shoreditch based Supperclub.
No limes in coconuts and no wiener schnitzels, Bootleg Banquet brings their flair to the menu and Tarantino to the experience in the soundtrack, costume, and touches of Diner decor.
The menu:
Stuntman Mike's Nachos
Housemade  tortilla bowls filled with black corn tortilla crisps,
Salsa, guacamole, cheese and crème fraiche
*****
Fox Four Five Firecracker shrimp salad
Pan fried tiger prawns with lemon, oregano, feta and peri peri
Served over cobb salad and garlic croutons
*****
Royale with Cheese
Venison and pancetta burger in a homemade bun with Cashel blue, salad and pickle
Fried chicken in a basket
Buttermilk-marinated thighs with 11 secret herbs and spices
Served with Dutch fries, Onion rings and baled hay in the alley
*****
Amos & Andy with a side of Martin & Lewis
Dark chocolate and hazelnut brownie with dark chocolate sauce
Served with a Bourbon vanilla hardshake
This looks like it will be a very entertaining evening and a must for foodie Tarantino fans.
£42pp
You can book tickets via Edible Experiences