Format seemingly plays no part in it, Lord's is always a special place to watch cricket. Lucky enough to have been a visitor to the ground a few times for test and county championship matches, I found myself there once again last week. On this occasion, it was a t20 blast matchup between Middlesex and Surrey and both sides gave us a spectacle worthy of the home of cricket. Beautiful weather, a fantastic view, great atmosphere and a good wicket offering enough to both batsman and bowler made it an enthralling evening.
Surrey batted first and, in the early stages at least, looked like posting a pretty decent total. Ben Foakes and Aaron Finch, partnering the always reliable Kumar Sangakkara, took the attack to the Middlesex bowlers with some inventive shots. Scoops over the wicket keeper's head, sweeps around the corner and powerful lofted straight drives all found the rope awaiting. Unfortunately for Surrey, momentum was difficult to maintain and Sangakkara, who clearly wore the wrong aftershave last Thursday, consistently saw the backs of his partners as they forlornly wandered back to the famous old pavilion wondering what they'd done wrong. Sangakkara ended up with a lovely 70 runs off of just 42 balls and Surrey's total of 158, though certainly below par, gave them something to work with. Middlesex would've been pleased with their bowlers; Helm, Southee and Stirling all took key wickets and proved very economical against a potentially explosive batting line up.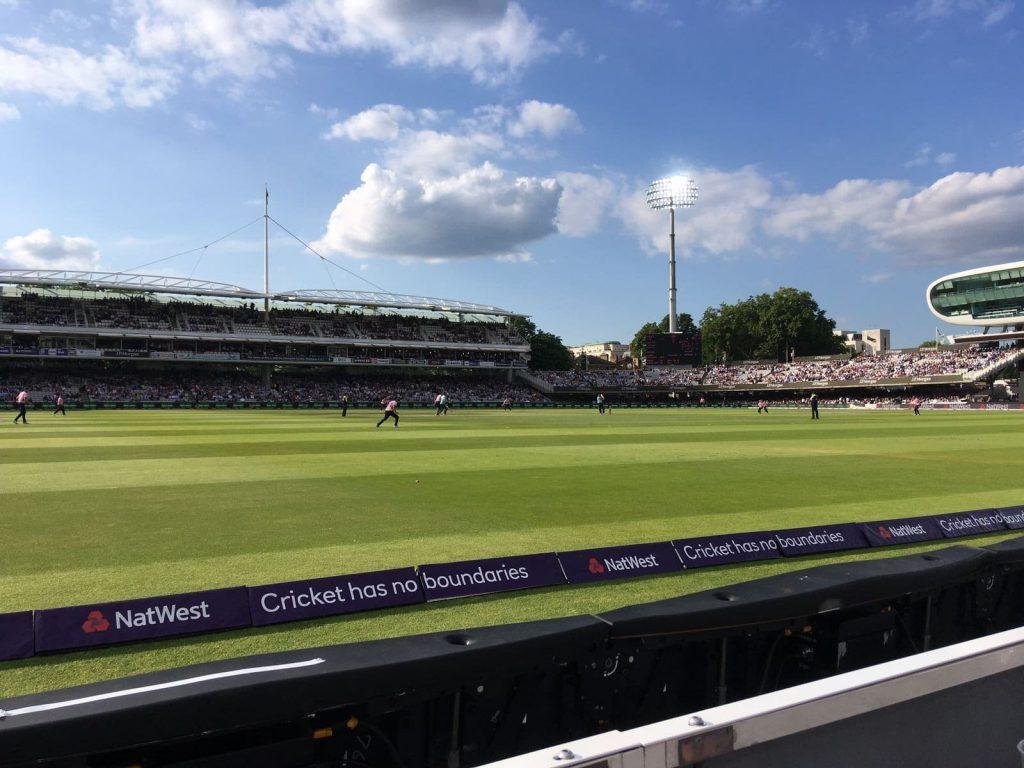 Middlesex's chase got off to a good start. Opening Messrs Malan and Stirling made some valuable runs and made the most of the batting power play. Safe in the knowledge that at 3 and 4 they had the t20 batting powerhouses of Brendon McCullum and Eoin Morgan, Middlesex forged a solid platform from which to work. At 68-1 off of just 7 overs, with McCullum and Malan both in and Morgan waiting, there was a feeling around the ground that this was going to be a pretty dominant Middlesex victory. McCullum and Malan both went shortly afterwards to the very effective Gareth Batty and it was left to Morgan and Franklin to press on. They did just that, Morgan went on to hit a typically inventive 31 and, even when he too fell to Batty leaving Middlesex 133-4, the odds on them knocking off the remaining 26 runs in 5 overs were pretty good. In the 2.5 overs that followed Morgan's dismissal, Middlesex somehow contrived to lose 5 more wickets for only 20 runs to leave them 153-9 and with decidedly less swagger about their bench away to our left. With Surrey a wicket away from an unlikely win and Middlesex ailing for the final few runs to save their blushes, we were all set for a tense finale.
In the 19th over, it was left up to the ever industrious Ravi Rampaul and the Watford Wall (Steven Finn) to battle it out. As it turned out, the Middlesex man smacked the winning runs through the covers and Surrey, who had fought back admirably, were left despondent. Incidentally, Gareth Batty, helped by a slightly slow pitch and some questionable shot making, ended up with pretty fantastic figures of 4-14 off of 4 overs and the wickets of Malan, McCullum, Morgan and Southee. Not bad for a guy a few months away from 40, but it wasn't enough to leave the Bradford man smiling at the end.
What looked like a certain Middlesex win at around 20.00, went on to become a genuine Middlesex win at 21.30, but the story of that 90 minutes was far more tumultuous than the score suggests. Joined by 27,000 other cricket pilgrims, we'd once again been treated to a special performance at the old ground. 3 hours of excitement, 203 years in the making.
There's 3 more Thursday night NatWest T20 Blast matches in July and August, with tickets from £20 or £5 for under 16's. Middlesex v Essex – 27th July, Middlesex v Hampshire – 3rd August, Middlesex v Sussex – 10th August.