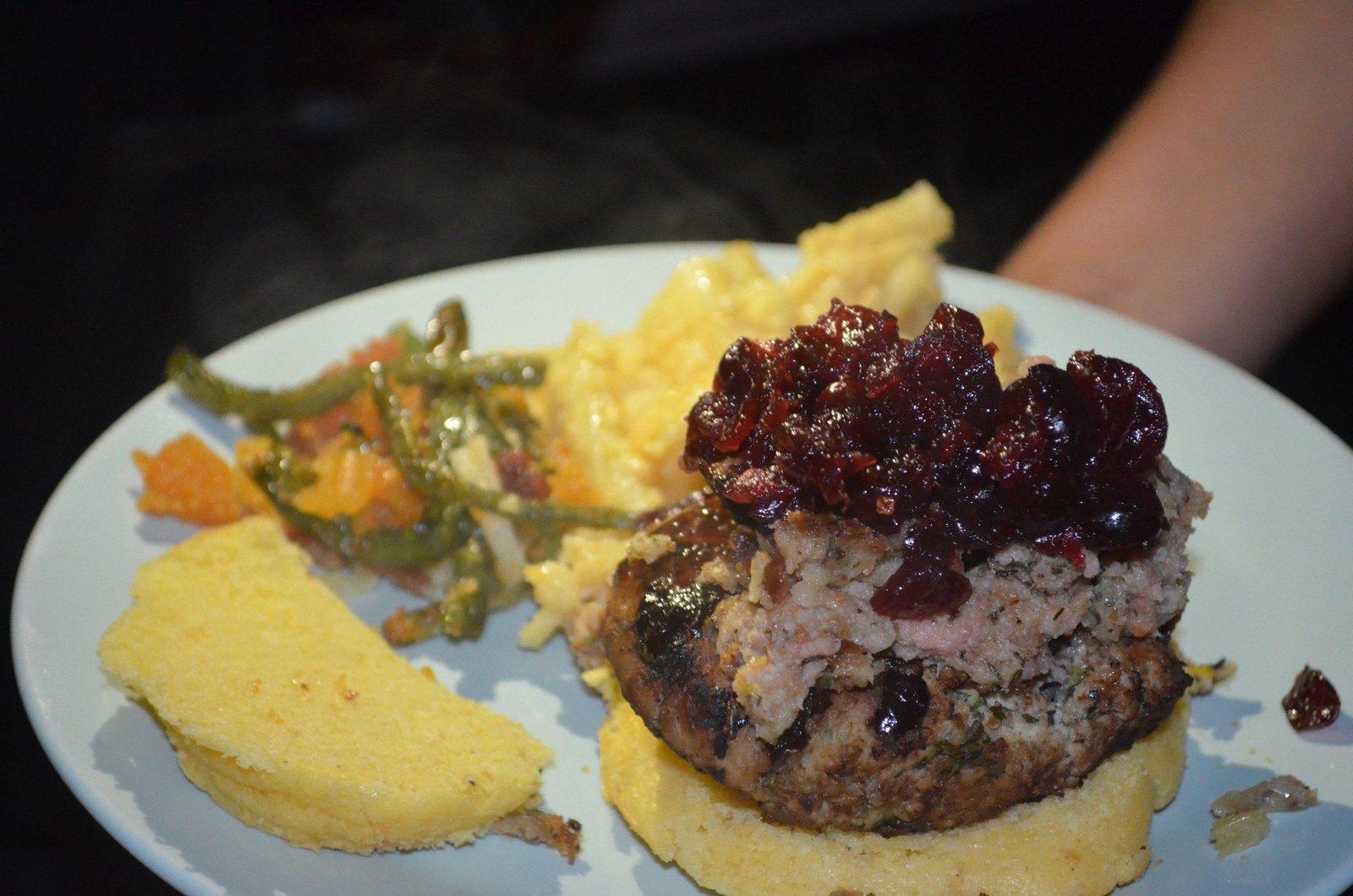 Grumblings From A Greedy Girl Pops Up for American Thanksgiving Review
Walking through a small door in the otherwise closed up Tooting Market on a Saturday night you almost felt as if a security guard was going to throw you out, telling you it was closed.
But as soon as we arrived at the Thanksgiving dinner hosted by blogger Amy, who writes grumbling a of a Greedy girl the glow of the coloured lights, the frenzy of activity over the hot stove and the buzz of chatter among the guests bought the entire market to life.
We were greeted with a cocktail of Bourbon, cranberry juice, lemonade and lime- aptly named Don't Shoot the Turkey.
A delicious, warming drink, perfect for a cold November night. Having spent 2 years living in the US I recognised the red plastic cups the drinks were being served in as typical of any American party.
To begin the evening a guitarist got the guests in the mood for the festivities, playing American country style music.
As we chatted to our fellow diners, local residents who were in awe at the market's transformation, we happily grazed on some incredibly moorish bite-sized pretzels filled with peanut butter.
The first course was a sweet potato soup with marshmallows. I am not a big soup fan and must admit I was skeptical of the marshmallows but I was pleasantly surprised. The hint of spice was perfect. Warming without being overbearing. And the marshmallows melted into the soup as grated cheese would in an onion soup.
The next courts was Amy's take on a Thanksgiving dinner. I was only in the US once for Thanksgiving and couldn't move for hours after I ate so I was bracing myself for what promised to be a generous plateful of food. And generous it was.
We were presented with a turkey burger on a corn bun, served with the traditional cranberry sauce, pork stuffing and accompanied by sides of crunchy green beans and mac n cheese.
The food was hearty comfort food, and an interesting take on what is usually rather akin to a Christmas dinner in the UK.
Unfortunately, the mac and cheese tasted rather burnt, a shame given if is such a traditional American dish.
But I can understand that the logistics of having to create a makeshift kitchen in a market, without all the proper fittings, must be a massive challenging so getting everything spot on is not easy.
After the main course it was time for the man versus food chilli eating competition when a member of each table had to volunteer to eat a selection of the world's hottest chillies.
Watching the contestants squirm, sweat and suffer really got everyone at the pop-up gathered round and cheering. And despite it being painful to watch the contestants torture themselves, having a challenge was a welcome addition to the evening.
Finally we were served some traditional American deserts- a pecan pie and a chocolate and pumpkin cake.
The pecan pie together with the side of cinnamon spiced mascarpone was delicious and went down very well despite being full. Always the sign of a good desert!
As we left the tables were cleared and some of the guests were getting started at a good ol' American game of basketball. Not something you could do in a normal restaurant, so testament to what a great space Tooting market is for memorable pop-events and how a great atmosphere can be created.
Natalie