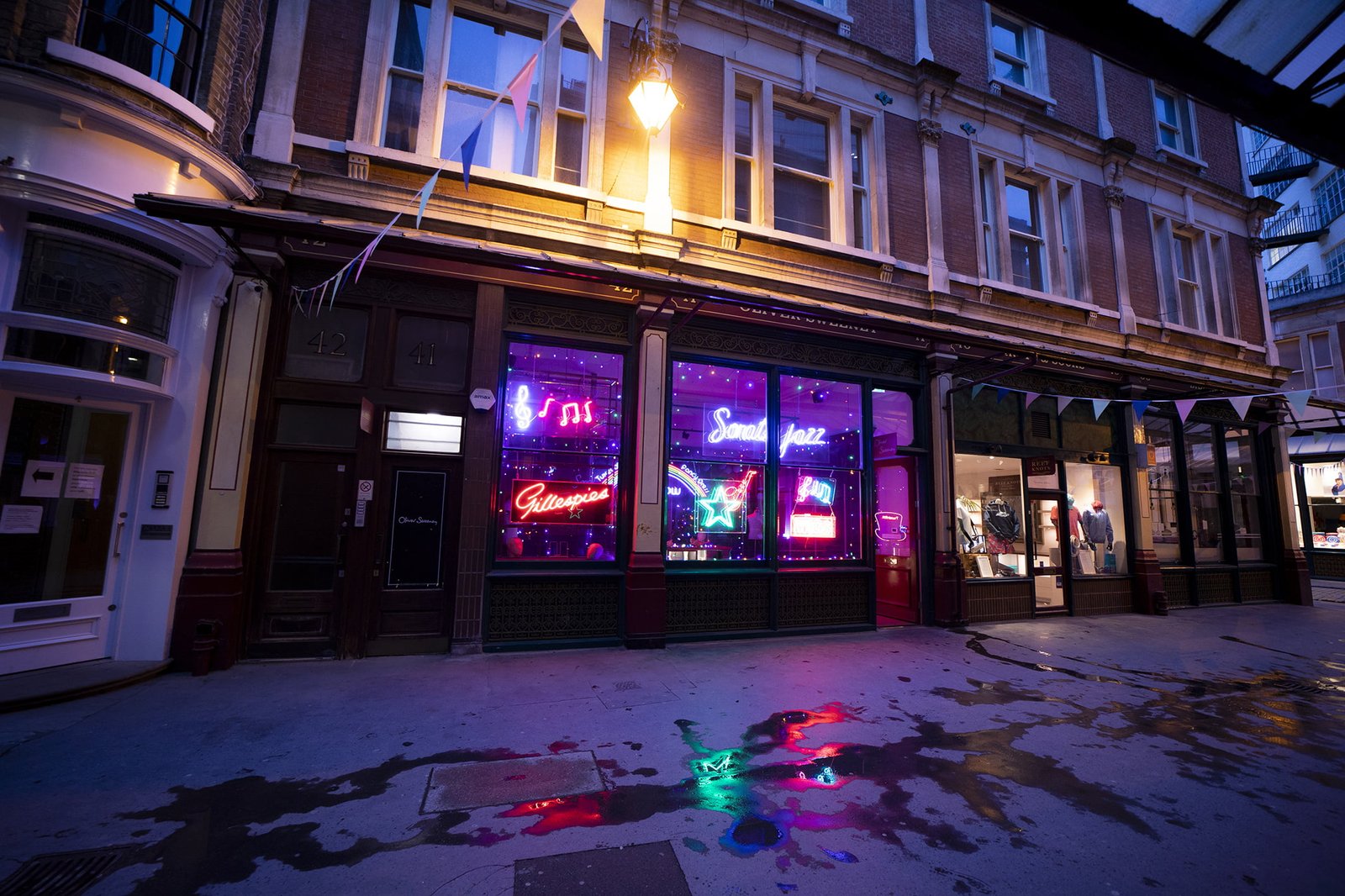 Electric City – Leadenhall Market announces Gods Own Junkyard takeover and neon film exhibition
With its stunning interiors, shimmering glass and wrought iron structure and airy cobbled walkways, the City of London's iconic Leadenhall Market featured as a film location for wizard-world shopping street Diagon Alley in Harry Potter and the Philosopher's Stone, as well as many other movies including Tomb Raider, Tinker Tailor Soldier Spy and more.
From Wednesday 26th May until the end of July, lights, neon and a great deal of action will come in to play at the Victorian covered market. Designed to inject a blaze of colour and joy back into the capital, Leadenhall Market will collaborate with Gods Own Junkyard on Electric City, an immersive technicolour production involving multiple units and installations. Gods Own Junkyard has worked on filmsets for over 40 years and the exhibition will include signage highlights from Stanley Kubrick's Eyes Wide Shut, Judge Dredd, Batman, Tomb Raider, Charlie and the Chocolate Factory and The Dark Knight. In addition to the actual movie signs, Gods Own Junkyard will display film stills of the pieces in-situ in the windows of Leadenhall Market's shopfronts.
Electric City is part of an exciting programme of events and activities to celebrate the full reopening of Leadenhall Market's 35 boutique retailers, bars, restaurants and cafes after restrictions on indoor dining lift in line with step three of the government's lockdown roadmap on no sooner than May 17th.
While Gods Own Junkyard's Walthamstow paradise and Rolling Scones Cafe will continue to host their entire archive of neon and vintage signs, Electric City will allow them to bring out some of the key pieces to chart their own place within movie history.
Although the movie signs are not for sale, a walk-in installation and information hub will be open to the public on Wednesdays to Saturdays, with selected pieces available to purchase online via a Shopify site with item codes for virtual buyers. Further exciting events including guided tours and talks will also be announced in June and July, once government restrictions are fully relaxed from no sooner than 21st June.
Since founder and neon artist Chris Bracey passed away in 2014, Gods Own Junkyard has been in the care of his wife Linda and sons Mathew and Marcus, all neon makers and designers. They are delighted that the Leadenhall Market project has given them an opportunity to spotlight some of these iconic signs as a way of reflecting on their own history, in addition to their much-discussed Soho nostalgia.
Linda explains that one of the films highlighted will be Eyes Wide Shut, via an atmospheric installation featuring signs and neons from the film which are key to the film's themes. "It was a dream-come-true for Chris to be involved in this project," enthuses Linda. "He was such a fan of Kubrick's work and was blown away by 2001." When the call came for Chris to transform Pinewood Studios into Greenwich Village in New York and follow the main character through nighttime walks, strange lights and exotic signs, it was the highlight of his career.
Parts of Greenwich Village were recreated sign-by-sign by Gods Own Junkyard at Pinewood Studios. Kubrick didn't want to bring in any additional lighting apart from what appears on-set and the atmosphere was achieved by thousands of multi-coloured Christmas lights, which the Bracey's will reference in their own Leadenhall Market Kubrick vignette alongside the Rainbow sign of the fancy dress shop and Sonata Jazz.
Additional installations will feature the signs and neon items from cult dystopian movie Judge Dredd where all of the Earth's population have crowded into the cities across the planet, now known as Mega-Cities. "As the exhibition will take place in the heart of London, we thought it would be interesting to look at the work we've done in helping to create cities in film, while also referencing one of our deeply-missed leisure activities, the cinema," explains Linda.
"We certainly believe it will be an interesting project and like nothing we've ever done before," said Linda Bracey, Gods Own Junkyard. "When you're commissioned for a film, you have a working title, you don't know much about it, you have to sign an NDA, so it's impossible to gauge how important it might become. Curating the Electric City exhibition for Leadenhall Market raises the question, 'why didn't we buy back more?'"
Located at the heart of the Square Mile, Leadenhall Market is home to 35 boutique retailers, bars, restaurants and cafes. From fine-dining experiences to family friendly restaurants, wine-bars and an award-winning pub, the Market has a range of options for friends, families, and work colleagues to get together. Shoppers can choose from luxury brands including Barbour, Reiss and Diptyque and gifts from boutique retailers such as: specialist drinks from Amathus, pastries from speciality French bakery Aux Merveilleux De Fred, a selection of over one hundred artisan British and European cheeses from Cheese Leadenhall, watches and jewellery from family-owned Beau Gems and seasonal floral gifts from Windsor Flowers.