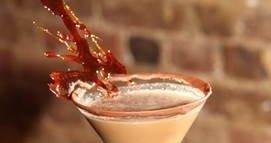 Dangerously Divine – Chocolate, Caramel Salted Choctini for Valentines and Beyond
The makers of the infamous 'Cream Egg Mojito' have gone one step further this Valentines to bring you cocktail with a massive 593 calories of chocolate love. Foundation bar, have collaborated with Divine, the specialist fairtrade chocolate company, in creating this seemingly delectable cocktail masterpiece. They have effectively melted down Divine fairtrade  'Milk Chocolate Toffee and Sea Salt' bars, added alcohol and probably a lot of care and attention to create a cocktail you'd might be tempted to leave your partner for.
At £8.50 it's not cheap, but far from expensive either, and it available now and throughout Fairtrade Week (24th February until 4th March) at Foundation bar, Covent Garden.
David Kay, head mixologist at Foundation bar, who created the cocktail assures that despite the calorie content the drink is surprisingly refreshing.
David says, "This is the ultimate in Valentine's treats – boozy, fresh and dangerously chocolatey.
It's surprisingly light – chocolate is the perfect accompaniment to a romantic Valentine's night."
Admittedly London Life UK haven't tried it 'yet' but for those lucky enough to work near Covent Garden, then this might be a perfect excuse to miss the crazy rush hour traffic, tube strike or not!
But if you can't make it, they've been kind enough to supply us with a recipe you can create at home.
Dangerously Divine: A Caramel Salted Chocolate Martini (or Choctini as we've decided to call it)
Ingredients: (serves 2)
–          100g Divine Chocolate with Toffee and Sea Salt
–          100ml Vodka
–          50ml Caramel Toffee Liquor
–          Ice
Preparation – rim martini glass in melted chocolate and salt and place in the freezer and leave for at least an hour to harden.
1.      Melt Divine Chocolate with Toffee and Sea Salt Bar to make Chocolate Liquor (To make the chocolate liquor, put 150ml water and the chocolate in a saucepan and bring to simmer over a low heat, stirring constantly. Remove from the heat and allow to cool).
2.      Half-fill a cocktail shaker with ice, add 100ml of chocolate liquor, 100ml of Vodka and 50ml of Caramel Toffee Liquor and shake very well.
3.      Pour into frozen glasses, grate with Divine Chocolate with Toffee and Sea Salt Bar and serve.