Dabbers Bingo gets a Full House from LDN Life
definitely worth a dabble
Summary
Dabbers Bingo gets a full house score for making bingo more fun than an afternoon at an unlimited taco and tequila Take That themed brunch party.
Ok, it's time to face it – Bingo has gone mainstream. It's no longer confined to middle-aged or older women at Mecca, or hipsters doing it ironically in Hoxton, with Rebel Bingo launching their Social Bingo Academy (not the in-yer-face 'punk' bingo they started with) and the opening of the new Dabbers, it's now definitely an acceptable after-work activity.
But, I mean Dabbers Bingo, it's not necessarily bingo as you know it.
I went along to the launch of Dabbers, the new bingo hall from the It's Unknown crew (responsible for Gospeloke, Musical Bingo and LMS Quiz) and of course they've jazzed it up a bit for the new generation. It's not all eyes down, hushed concentration – there's music, food, bars upstairs and down, and plenty of wild cards thrown in to keep it lively.
Your roaming compere for the night is Boogaloo Stu, no stranger to bingo as he used to run Butchery Bingo when the upstairs of XOYO was a thing and has done several other bingo events since. His amazing hair already brings a bit of colour to the normally staid game. There are two glamorous assistants boogying on stage and calling the balls. And the calls have been updated to suit the times. No more two fat ladies for 88 – they're two body positive ladies! And number 77? Trump's hair Armageddon!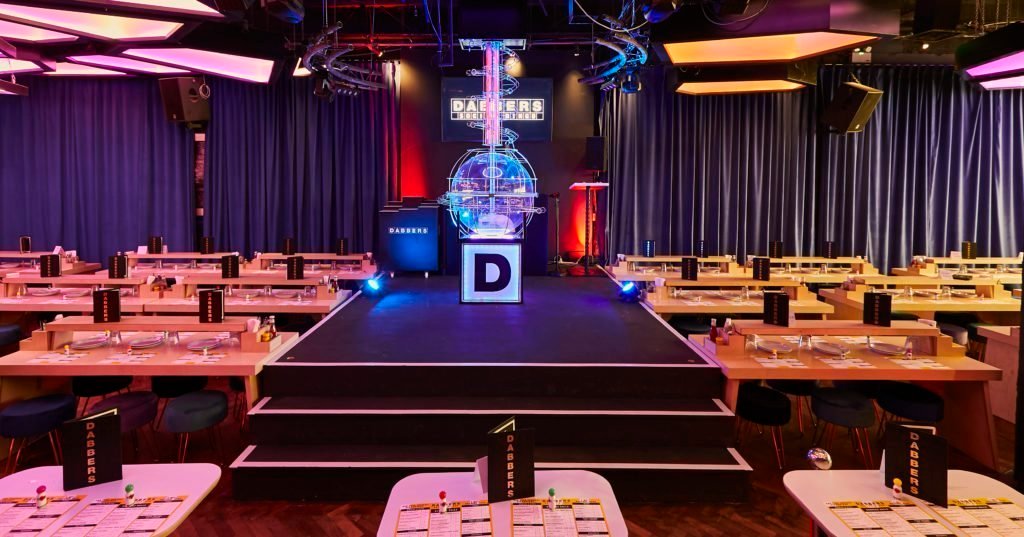 With this version of bingo, silliness is encouraged and it's not whoever shouts first wins – multiple winners for each round are encouraged to come up and compete in silly games to be the ultimate winner. Prizes are mixed – one line gets you a token prize but full house could get you a fitbit (knock-off) or decent headphones.
Music blares and dancing is encouraged. So much so that every now and then the girls pull a 'disco ball' which means everyone is up and dances while the words are projected on screen. So we were dancing to Chesney Hawks when disco ball '1' was picked, and Bryan Adams Summer of 69 when disco ball '69' was picked.
As it was a launch, we were treated to a selection of the menu and the food is good so make sure to make that a part of your evening. The prawn skewers especially were noteworthy and of course the mains were all ball shaped because Bingo! And they were good so get some!
Music is classic crowdpleaser cheesiness brought to you by Myles Metric – I need a hero and MJ were played so bear that in mind.
Dabbers Bingo is a perfect work night out, something to keep everyone happy. It's Unknown have another hit on their hands.