7 Things To Do In London This Christmas
If the thought of fighting through the hoards of Winter Wonderland revelers leaves you feeling cold, LDN Life has compiled a list of alternative events and things to do London, that will hopefully warm your soul this Christmas.
1). Brixton Rooftop's South Pole Saloon may seem like an odd choice at first blush considering Brixton can feel like the busiest place on earth at times.
That said, there's the promise of an escape from the dark winter nights simply by climbing the stairs to one of South London's most popular rooftops.
You'll be greeted by candy caners (whatever they are) and led through the swinging saloon doors and into a heated and covered wonderland, complete with woodland lodges, multiple bars, Candy Caner Cabins and themed private rooms, where creative cocktails are on offer, plus festive street food (of course), live music and interactive entertainment. Did we mention it's fully heated and covered rooftop, just a three-minute walk from Brixton tube station?
2). Go La La for The Last Days of Shoreditch 
A firm LDN Life favourite, Last Days of Shoreditch is in a Winter La La Land, complete with roaring fire pits, Ernest Hemingway inspired cocktails, delicious food, all under one big roof and soundtracked by a star-studded DJ line-up.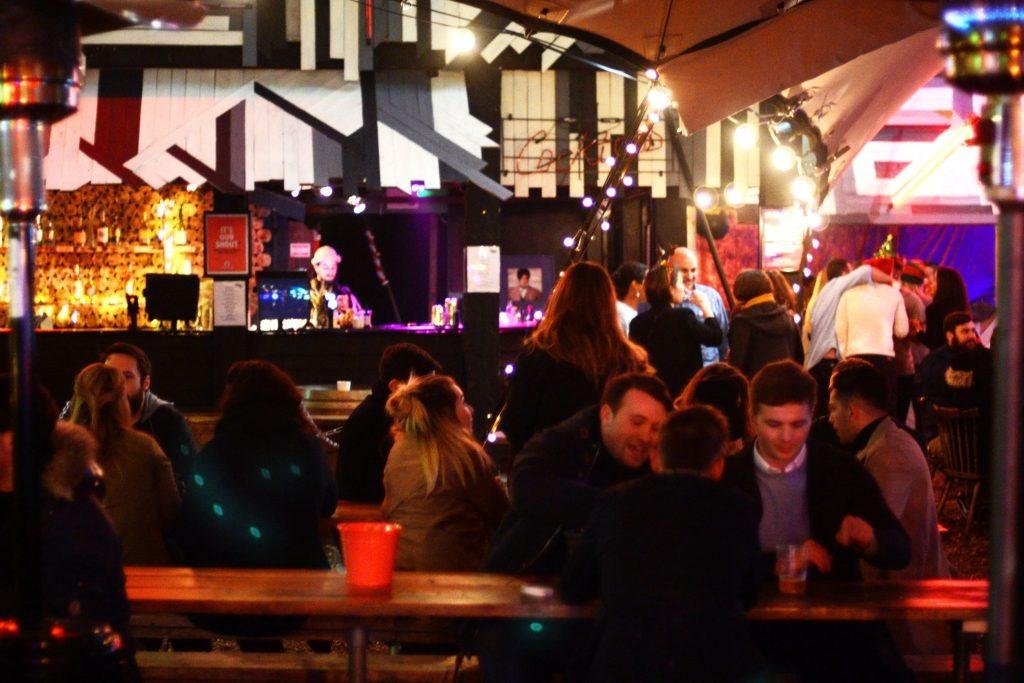 On the menu, winter warmer cocktails, craft beer and alongside street food lineup from Smokey Tails, Biff's Jack Shack and Cheeky Burger. Plus it now boasts a fully covered and heated indoor seating area, alongside its karaoke room powered by Lucky Voice and private spaces available to hire making it the ideal spot for winter 'hedonism'. It's open Thursday to Sunday and free to get in, but queue jump tickets + a cocktail are available via lastdaysofshoreditch.co.uk.
3). Another LDN Life favourite, the Magic Roundabout in the middle of Old Street, but be warned, our review made it sound like a time sink (In a good way)
You could be anywhere in the world and not know it. Along with their standard issue covered, warm and funky wintriness, there's also a lot of one-off events, so it's best to check out their website before heading down.
4). Winterville – an alternative wonderland 
Back south of the river on Clapham Common there's an alternative to Winter Wonderland that wouldn't feel out of place in east London. Street Feast, Ferris Wheel, Popup pub, another ice rink or for a bit of the same but different… Roller disco. There's also a Christmas market and Backyard cinema.
If that sounds like an expensive day or night out. There's also a guide to 17 things you can do for free, but let's be honest you'll be hard-pressed not to spend some cash.
5). Ice Skating
London is awash with places to ice skating. From central locations with great views, like Tower of London which we visited a couple of weeks ago, Skylight at Tobacco Dock, to Hampton Court Palace in deepest darkest, but beautiful Zone 6, if you visit between the 8th and 10th December you'll also find the BBC Good Food Show in attendance.
6). Go and see the Christmas lights. 
There's, of course, Oxford Street Christmas lights if you also need to do some Christmas shopping. In which case you really should check out the quirky London Christmas lights glowing across the 13 streets of cool Carnaby. Plus more than 300,000 Christmas lights and 16 glowing spirits glittering above Regent Street.
There's also the gorgeous mistletoe chandeliers at Covent Garden, plus the promise of magical Christmas lights in nearby Seven Dials and then take a walk along the South Bank, which is probably my favourite place at Christmas
No Christmas lights suggestions would be complete without a mention of the world-famous tree in Trafalgar Square. Best of all they are all free to watch, but don't blame us if you're tempted to spend along the way.
7). Don't bother trying to visit Santa, unless it's on a boat.
Seriously Father Christmas seems to be really popular, even though he appears to be hundreds of places at once and wearing slightly different outfits and visited different beard stylists in Shoreditch. After 6 failed attempts at 'pretending' to book tickets to see Santa, I came across the City Cruises Sail with Santa. At this point I gave up, because it does look pretty good.
If this list hasn't hit the spot, there's a lot of other guides out there. Visit London's 101 things to do, pretty much covers all the bases. Time Out and the Londonist are unsurprisingly good places to look.
Got any suggestions? Drop them in the comments! 🙂