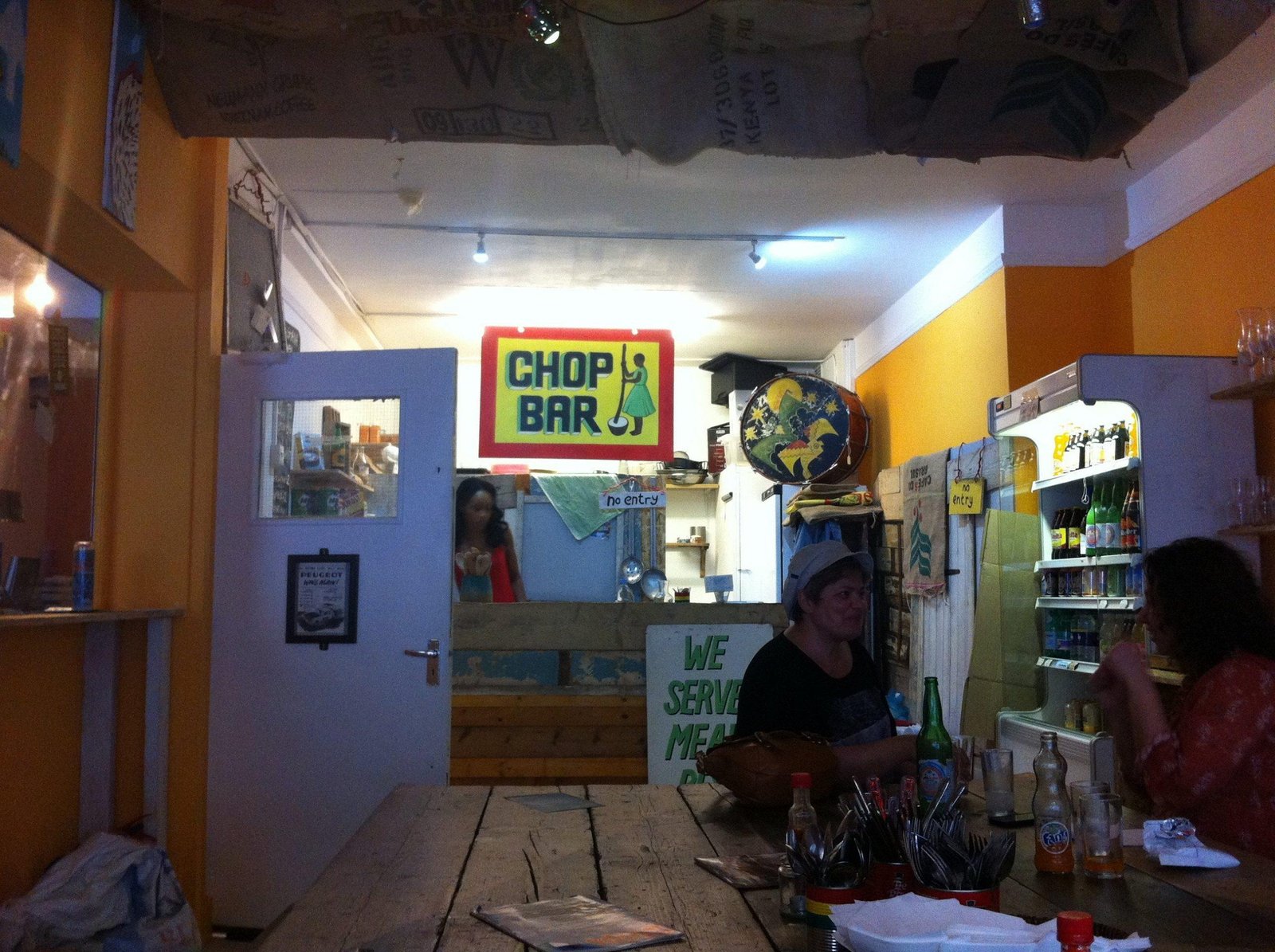 Zoe's Ghana Kitchen – Review – A West African experience you'll savour
In London we are spoiled for choice for Italian, French and Mexican food places, but one area that is rarely given focus is the food of West Africa. The menu is vibrant, fresh and exciting, and is often unheard of or at best overlooked. Discovering Zoe's Ghana Kitchen popping up in Covent Garden, I was intrigued by the idea. Upon stepping through the door I was instantly taken in by the colourful surroundings and sizzling smells.
About Zoe's Ghana Kitchen
Zoe's Ghana Kitchen started five years ago when manager Zoe suggested to her sister Natalie that they should have a pop-up kitchen at the Hackney Wick festival, after their catering at a birthday dinner went down especially well. This pop-up debut earned them an article in Time Out, and since then they have been popping up everywhere!
Popping up in Covent Garden
We were greeted warmly by Natalie, Zoe's sister, who talked us through the menu, suggesting we go for a 'safe' option and a 'daring' option. Taking her advice, we ordered the chicken wrap and the Nkatenwan, which is a soup with lamb chunks, flavoured with peanut butter and scotch bonnet chillies. We were intrigued…
Before getting our mains we enjoyed Fanta, not the normal Fanta we'd drink from cans in the UK, but the stuff on sale in Africa in glass bottles. The taste is quite different, and reminded me straight away of drinking it when I was over in South Africa. Most of the drinks they offer are from the region – African beer, wine and soft drinks, with a small selection of canned UK drinks and water. It's great that they encourage people to try the full experience of West African dining.
The loss of the Africa Centre
Chatting with Natalie, I discovered that the Africa Centre, where Zoe's Ghana Kitchen has popped up, is due to be knocked down towards the end of September, taking the basement comedy club with it. It must be part of a redevelopment of some kind for Covent Garden, but it's hard not to be sad about all the history which will be lost. You can see the timeline of the Africa Centre, since it's opening in 1964, on the Africa Centre website
An impressive pop-up
While we waited, we flicked through the old magazines on the table, and talked about how impressed we were with the detail that has gone into this pop-up restaurant. From the large communal table to the tin lights and decorations hanging from the ceiling, the Ghana Kitchen had been put together by hand in 24 hours. We were especially impressed to see a lack of plastic and disposable items in use, as favouring a greener lifestyle, the healthy attitude of Zoe's Ghana Kitchen does not stop at the menu.
It wasn't long before our food arrived. We shared, so both got to try the 'safe' and the 'daring' option. The chicken wrap, as Natalie explained, is to cater for the interests of people working in the area. It's easy to pop in and pick up a takeaway at lunch, and for just £6 between 12 and 2pm you can get a wrap and a drink too. The wrap is filled with grilled chicken, homemade slaw and fresh jollop rice, and is deliciously fresh. I would definitely go for this at lunch if I worked in the area, and it has to be a healthier option than a full-on burrito!
The Nkatenwan dish was unusual, and not a taste I had tried before. The lamb was slow cooked and perfectly tender, and as I love peanut butter anyway I was very keen on the soup with its slight hint of hot chilli. Overall, we were both impressed by the freshness and quality of the food, and will be heading to the 'Ghana-Val' at Dalston Roof Park on Sunday 25th/Monday 26th August, which Zoe's Ghana Kitchen is catering.
As we were settling our stomachs, a rickshaw driver came in to order his dinner. He comes in every day for lunch and dinner, as he parks in Covent Garden for his breaks. In return for free food from the Ghana Kitchen, they have an ongoing agreement that whenever they need a ride, it'll be there for them. They have yet to take him up on the offer, and it is so refreshing to see a pop-up that not only brings a new experience to an area but also gets involved in the community through their generous and caring attitude.
Where to find Zoe's Ghana Kitchen
Despite her food going down well everywhere she goes, which includes various locations in London as well as Berlin, Zoe's Ghana Kitchen is made to be mobile.
Zoe has said that she enjoys the 'pop-up' aspect of the business, and would prefer to move around, bringing this unique dining experience to as many people as possible. Check out their Covent Garden location while you still can: The Africa Centre, 38 King Street, WC2E 8JT. You can also find them popping up in Hackney Wick on the first Saturday of every month.
Zoe's Ghana Kitchen is available for catering for private parties and cookery lessons for anyone who would love to introduce African cooking into their everyday lives! You can find out more on their website
By Cordelia author of Boats, Bikes and Books