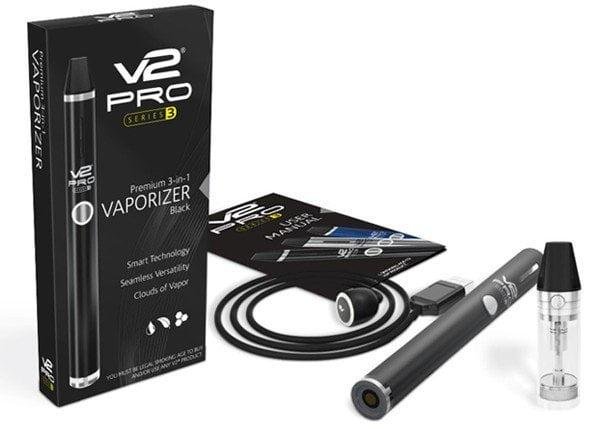 V2 Pro Series 3 Vapouriser Kit – review
I've tried a few different e-cigarettes over the past year or so and in the main I haven't been overly impressed. However the market for
vapourisers/vaporizers has improved greatly since I first tried them, so I decided to give them another go and went with the V2 Pro Series 3 Vaporiser which I have been testing for the past week or so.
The V2 PRO Series 3, a 3-in-1 vapouriser that enables users to vape e-Liquid, loose leaf or essential oil cartridges but for this review I have stuck to e-Liquids, but apparently the V2 PRO Series 3 detects what type of cartridge is in use, and automatically adjusts the temperature setting to get the best vapouriser results.
One thing I really liked about the V2 pro is the build quality, it feels like a quality product in the hand, with the magnetic design being particularly cool. The magnetic reassuring clunk you get from inserting the cartridge or attaching the charger makes this feel like a premium product.
The cartridges, provide enough space for e-Liquid to result in the same amount of puffs as one pack of tobacco cigarettes. The lights on the V2 Pro are also a cool addition, glowing white when in use, green when charging and red when the battery is empty or when you have clicked the button 3 times to lock.
As for the e-Liquids, these come in five different nicotine strengths and 12 flavours ranging from tobacco and menthol to sweet and fruity. I have tried quite a few different types, including tobacco styles, menthol and fruity, all of which tasted exactly as I was hoping, V2 Red Tobacco, V2 Mentol, Green Tea Menthol and cherry were my favourites. I went with the 1.2% Nicotine strength which was just enough for me to get the hit I needed but with 5 strengths to choose from you'll have to pick the one which is right for you.
Thankfully e-Liquid containers are well thought out and drip proof, the first time I used a similar product I managed to cover my hand in the stuff and panicked. V2 have done a great job of stopping this from happening and having a safety opening mechanism, though of course you still need a steady hand to refill and I would recommend washing your hands afterwards, as well as keeping them out of reach of children.
Perhaps the only thing I didn't like was not being able to vary the strength of the puffs like with some vapourisers, however after a while I forgot about this and used it as I would a cigarette which is kind of the point really.
Head to V2 Cigs to purchase the V2 Pro Series 3 vapouriser kit for an RRP of £75. (Deal at the time of writing £59.99)
V2 Pro Series 3 Vapouriser Kit
V2 Pro Series 3 Vapouriser

e-Liquids

Price
Summary
If you are in the market for a e-Liquid Vapouriser/Vaporizer and you want something Pro feeling but one that is still easy to manage I would recommend this product.