With the world of film honouring season over (we think), it's probably time we watched some of these films. All of them are on a list for me to watch at some point if only to see what all the fuss is about. So if like me you might be excited to learn that Backyard Cinema are doing their own homage to the Awards Season.
This is your chance to celebrate the best of the silver screen in style, right here in London during March, bringing you four feature length events filled with the biggest blockbusters, film inspired food and classy cocktails. They have hand-picked their standout movies from the last 12 months and hosting in cinematic style at Altitude in Milbank Tower.
They will be screening the award winning The Grand Budapest Hotel, The Theory of Everything,  '71 and Boyhood.
Tickets to each  indoor event are priced from £15 or you can snag the Champagne option for £18, or go all the way with the Full Monty ticket, offering Champagne &food priced at £29. For tickets and more information, head to their website.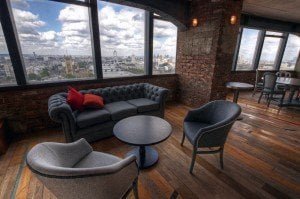 Dominic Davies Founder Of Backyard Cinema Said:
"We love the hype of awards season here at Backyard Cinema so wanted to put together something to celebrate our personal selection of the best films, in an environment that makes a bigger deal about them than your average cinema. A red carpet, 1950's usherettes, a glass of fizz and some breath-taking views of London are the perfect accompaniment, along with some Backyard Cinema style surprises thrown in for good measure"
Of course with Backyard Cinema, the movie is only half of the experience. Their marketing talks of it all being set 29 floors above London, where you'll arrive on the red carpet before being whisked up to enjoy a celebration of film and enjoy incredible views over the capital. Once inside, their traditional 1950s usherettes will be on hand to lead you into a cinematic extravaganza, featuring fabulous food from Skyloft restaurant and Hollywood inspired cocktails. To get you well and truly in the mood for movies, there will be popcorn and ice cream, a series of short films & retro trailers and a few apparently a surprises. So if it's even half as good as it sounds count us in.
They've also teamed up with Bacardi & one of the countries leading cocktail mixologists Ally Martin, to create bespoke cocktails inspired by the glamour of Hollywood to accompany your screening. Ally Martin is one of Bacardi Legacy's 'Three Most Promising' for 2015, so I expect the cocktails to be A) Full of Bacardi and B) Pretty awesome (If you like Bacardi).  As for eating, you'll have a choice of food you can enjoy without a knife and fork, including slider burgers and vegetarian dishes, which are inspired by the cinema experience.
WHAT'S ON:
FRIDAY 13TH MARCH – The Grand Budapest Hotel
(5 BAFA WINS & 9 Oscar Nominations)
Doors 6:30pm – Last Entry 7:30pm – Film 8:30pm
SATURDAY 14TH MARCH – The Theory of Everything
(3 BAFTAWINS & 5 Oscar Nominations)
Doors 1:30pm – Last Entry 2:30pm – Film 3:30pm
SATURDAY 14TH MARCH – '71
(Jack O'Connell – Rising Star BAFTA WIN)
Doors 6:30pm – Last Entry 7:30pm – Film 8:30pm
FRIDAY 20TH MARCH – Boyhood
(3 BAFTAWINS including best film & best director & 6 Oscar Nominations)
Doors 6:30pm – Last Entry 7:30pm – Film 8:30pm
Visit:  www.backyardcinema.co.uk for more info